News
Yemen attack on official convoy, at least 5 dead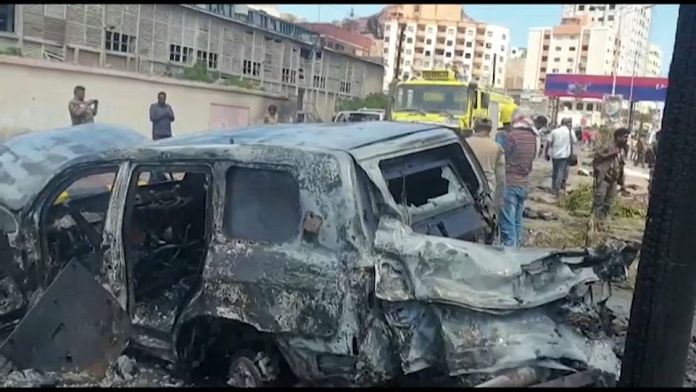 At least five people died Sunday in a car bomb attack in southern Yemen on a convoy of unharmed government officials, the latest attack in the war-torn country.
According to security sources, the governor of Aden, Ahmed Lamlas, the Minister of Agriculture, Salem al-Socotri, and a third official whose identity was not immediately specified, "were on board the convoy that was traveling in Aden. The city has been the interim capital of Yemen's government, which has been at war with Houthi rebels since 2014.
There was no immediate claim of responsibility for the attack. It left five people dead and 11 injured, according to a provisional assessment by security sources. The government called for an investigation. "The car bomb exploded in Al-Mualla Street as the convoy of officials, including the governor of Aden, the Minister of Agriculture, and another official, passed by", said one of the sources to AFP.
The Minister of Agriculture is a member of the Southern Transitional Council (separatists, STC) which participates in the unity government with the internationally recognized government. This government is headquartered in Aden.
South Yemen was an independent state until reunification in 1990. There is still strong resentment in the south against Yemenis from the North, who are accused of forcing the unification of the country.
World's worst humanitarian crisis
Several anti-government attacks have been attributed to Houthi rebels in recent years. Others have been claimed by jihadist groups. In December 2020, a deadly attack rocked Aden Airport shortly after members of the new unity government landed, killing at least 26 people and injuring more than 50 others.
The government then blamed the Houthis. And several months later, a UN report pointed the finger at the Houthis, saying that the attack on Aden airport was carried out with missiles similar to those of the Houthi rebels and were fired from places under their control.
In the war in Yemen, power is supported militarily by a coalition led by Saudi Arabia, Yemen's neighbor. The Houthis have the political support of Shiite Iran, a regional rival of the Sunni Saudi kingdom. They conquered much of the north of the country, including the capital Sanaa.
Yemen's war has caused the world's worst humanitarian crisis according to the UN, which often warns of a risk of large-scale famine. According to international organizations, tens of thousands of people have died in the conflict and millions have been displaced.
The Aden attack came as the US envoy for Yemen, Tim Lenderking, launched a new attempt to end the war in that country with a regional tour that included Saudi Arabia.
Source link