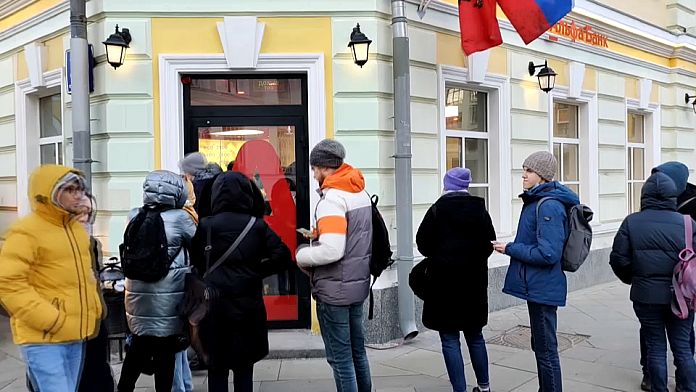 Russians are divided on the war in Ukraine. While some do not hesitate to go out to demonstrate against the invasion in Ukraine, others say they understand and support the military offensive of the Russian forces.
According to Russian state media, the majority of Russians support the decision of military intervention.
But the effects of the economic sanctions taken against Russia are already being felt in the daily lives of many citizens. Faced with the collapse of the rouble, the Russian currency, many are desperately trying to withdraw their savings from banks.
Long queues in front of banks
There are huge queues everywhere. But most vending machines don't even have tickets anymore," grumbles a Muscovite who has waited all day to withdraw money.
The war is beginning to worry the population, especially young people. "People are starting to get scared. Once Putin takes the first step, who knows if he won't develop psychosis and push a button," said a young Russian.
"I want to tell the whole world, Vladimir Putin is right"
There are also those who are against the war, but who claim to understand Moscow's policy.
"Our government has been forced to act. It is very difficult to make predictions. We want peace. We need peace," explains a Russian retiree.
While other people hold the same speech as the Kremlin, for them "it is because of the West" that there is the war in Ukraine.
"They provoked Russia", shouts a Muscovite. "It is the Ukrainians who are responsible for this situation, and Putin is right. I want to tell the whole world, Putin is the one who is right in this story"says another woman.
Fear of protesting against war
A few thousand people again defied a ban on demonstrations in Russia on Sunday to say "no to war" in Ukraine, rallies which led to more than 2,000 arrests, according to an NGO.
According to the specialized NGO OVD-Info, since last Thursday, Russian authorities have arrested a total of 5,942 people for participating in anti-war protests across the country. This number continues to rise.
"We are afraid to demonstrate, because Putin has all the power. The only thing we can do is express ourselves. And we are against this war", says a resident of Moscow.
Fear of having to go to the front
But it is the young people who have grown up with the governance of Vladimir Putin, who are the most afraid, in particular the fear of having to go to the front.
"There are apprehensions. Everyone is a bit between two chairs. None of us would like to be there," explains a young Russian who fears for his future.