News
Welcoming Ukrainian refugees and the surge of solidarity in Europe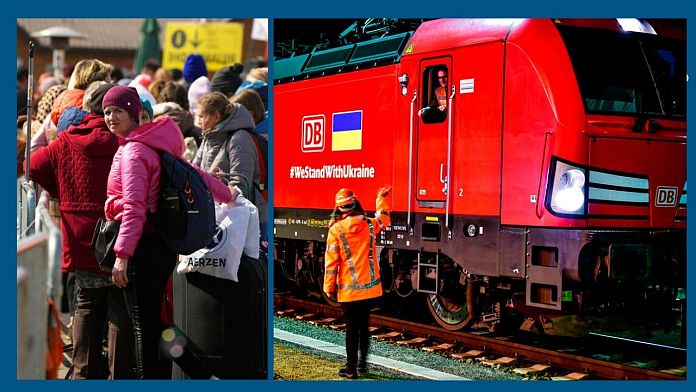 After a month of war in Ukraine, the exodus of refugees continues. And at the same time, solidarity in Europe does not seem to weaken in helping these populations who are victims of the conflict.
It's been more than a month since the war in Ukraine broke out, and the flow of refugees continues unabated.
According to the UN, nearly 3.7 million Ukrainians have fled the country.
This is a exodus of a magnitude and speed unprecedented since the Second World War.
Faced with this human tragedy, theoutpouring of solidarity is not weakening, especially in Europe.
Poland is on the front line. Country bordering Ukraine, this is where the majority of refugees arrive.
For some, it is only a stage before continuing the route further west towards Germany, Italy or France, countries in which they have contacts to be welcomed. Other refugees have no choice but to stay in Poland.
So on site, reception centers have been set up. This solidarity emanates from NGOs, local authorities and even the population itself. United Nations agencies are also mobilized.
Shabia Mantoo is the spokesperson for the United Nations High Commissioner for Refugees (UNHCR)
"For people who arrive, we first provide protection, she explains. __These populations fleeing dangerous situations, where their lives are in danger, aspire above all to feel safe. But our involvement does not stop there.
Some people have specific needs that must be taken into account. For example, there are people with disabilities. They need special assistance. __Some people need medical care."
"Railway Bridge"
Solidarity is also expressed in the sending of basic necessities to Ukraine.
Thus the German railway company (Deutsche Bahn) has set up a "railway bridge" that connects Berlin to kyiv.
Four days of travel, more than a thousand kilometers traveled through the conflict zones and at the end of the road, tons of food delivered to the besieged populations: the operation of Deutsche Bahn (DB), the German rail company, resounds like a distant echo of the famous "air bridge" organized during the Cold War by Westerners to help the city of Berlin victim of a Soviet blockade.
Deutsche Bahn employees lead the convoy to Poland where they then hand over to Polish drivers. The containers must then be unloaded and transferred because the track gauge in Ukraine is different. When the train arrives in Ukraine, Ukrainian Railways takes over the operations.
"We carry no weapons, no oil", underlines Michael Schmidt, spokesperson for DB Cargo, who adds that since the start of the offensive, attacks on the Ukrainian rail network have been rare because "the Russians need to keep this infrastructure in good condition", according to him.