News
Weekend of protests to support Ukraine and call for peace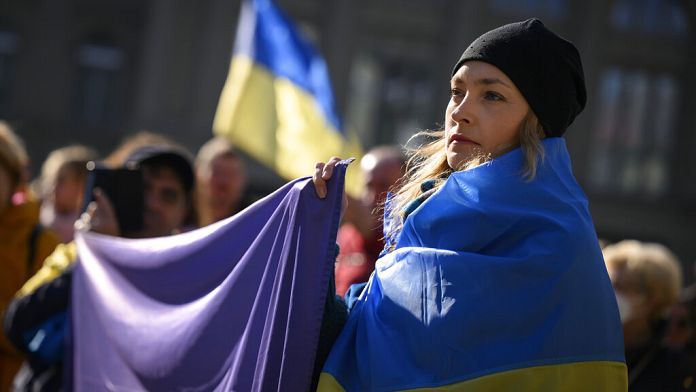 The war in Ukraine started ten days ago now and since this Thursday, the Ukrainian city of Kherson is under Russian control. This Saturday, however, warning shots from the occupiers did not prevent residents from taking to the streets, Ukrainian flags in hand, to denounce the Kremlin's offensive against their country.
Almost everywhere on the planet, demonstrations against the war in Ukraine continue. This Saturday at Paris, they were several thousand to have gathered place of the Republic. Rallies were planned all weekend in many cities in France.
AT Lisbon, several hundred people formed human chains on Friday to demand peace in Ukraine. Side by side and lined up along the embassies of four of the five permanent members of the United Nations Security Council (France, United Kingdom, United States, China) and Germany, men and women responded to the initiative of the Association of Ukrainians in Portugal.
"For peace in Ukraine, the whole world with one voice!", chanted the participants while waving Ukrainian flags and placards calling to stop the Russian president Vladimir Poutine.
Each human chain ended with the delivery of a letter to the ambassadors urging the governments approached to show firmness in the face of Russia's invasion of Ukraine.
Some 29,000 Ukrainians currently reside in Portugal, forming one of the largest foreign communities in this country of 10 million people.
"I am here out of solidarity and because what is happening makes me very sad. I also experienced this kind of situation when I had to leave Angola after the carnation revolution in 1974. So I understand very well the situation of these Ukrainian women and children. That's why I'm here", explains a Portuguese retiree.
On Tuesday, the Portuguese government announced a simplification of procedures to welcome and integrate Ukrainian refugees.
In particular, it provides for accelerated regularization which gives them a tax number, a social security number, access to health services, assistance in finding accommodation and the right to work.
Another demonstration, London. Several hundred people, carrying Ukrainian flags, demonstrated this Saturday to demand an end to the invasion of Ukraine and to pray for peace.
Crowds gathered in Trafalgar Square in the center of the British capital, holding signs with inscriptions like "Putin kills" and "Total embargo against Russia"and screaming"Stop Putin, stop the war!".
"When the last Ukrainian soldier falls, Putin will come for you ladies and gentlemen", proclaimed a giant banner.
The Apostolic Nuncio to Britain, the Archbishop Claudio Gugerottiread a prayer, saying in particular "Today we are all Ukrainians".
The atmosphere was the same Rome this Saturday and the Italians also take to the streets to say no to war. Like a Zürich in Switzerland where protesters demanded an immediate ceasefire in Ukraine, diplomatic negotiations and the withdrawal of Russian troops.
Large numbers of Japanese also took to the streets of Tokyo to express their solidarity with the Ukrainians.