News
"We must recognize" that Ukraine will not be able to integrate NATO, says President Zelensky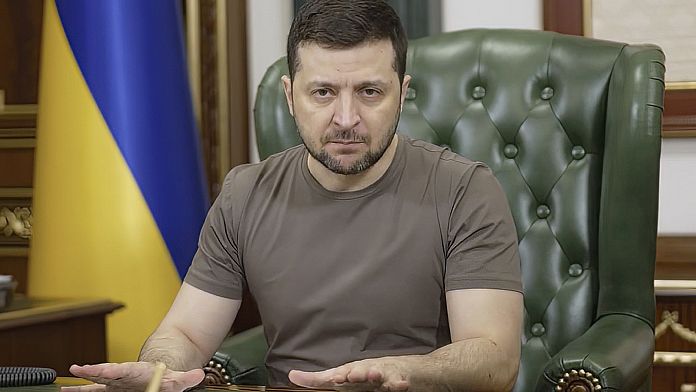 "It must be recognized" that Ukraine will not be able to join NATO. While this is one of the motives put forward by Russia to justify its invasion of Ukraine, President Zelensky seems to be resigned. He had already tempered his position last week saying he understood that the Alliance was not ready to accept his country.
"It is obvious that Ukraine is not a member of NATO. We understand that. We have heard for years that the doors are open, but we have also heard that we cannot join. truth and it must be recognized. I am happy that our people are beginning to understand it, to rely only on their strengths and on our partners who help us" highlighted Volodymyr Zelensky.
But he still regrets that NATO refuses to create a no-fly zone over Ukraine.
"We hear arguments that the + Third World War + could start if NATO closes its skies for Russian planes. That's why the Air Humanitarian Zone was not created over Ukraine and that's why the Russians can bomb cities and kill people, blow up hospitals and schools", he launched.
Russia invaded Ukraine on February 24 and is waging war in this former Soviet republic.
Moscow says it wants a guarantee that kyiv will never enter NATO, a transatlantic alliance created to protect Europe from the threat of the USSR at the start of the Cold War and which then gradually expanded to the gates of Russia.
As the Ukraine offensive enters its fourth week, theRussia calls for a vote of the United Nations Security Council this Wednesday on its own "humanitarian" resolution demanding the protection of civilians "in vulnerable situations" in Ukraine and safe passage for humanitarian aid and people seeking to leave the country.
During a meeting with the press, the Russian ambassador to the UN, Vassily Nebenzia, regretted that France and Mexico had given up on submitting their draft resolution on humanitarian aid to the vote after 15 days of discussions, preferring to request a vote directly from the United Nations General Assembly.
For Moscow, any humanitarian resolution brought before the UN must neither "blame nor shame" Russia.
"We will see whether or not the Security Council can fulfill its mission of adopting a resolution that will address the humanitarian situation in Ukraine with clear humanitarian provisions such as the call for a negotiated ceasefire, the evacuation of civilians, respect for international humanitarian and human rights law, condemnation of attacks on civilians and civilian objects, safe and unhindered passage, unhindered access for humanitarian aid, etc." Explain Vassily Nebenzia, Russian Ambassador to the UN.
US President Joe Biden reaffirms his ironclad commitment to his Alliance allies and will travel to the extraordinary NATO summit in Brussels next Thursday. Objective: to reaffirm firm support for Ukraine.