News
"We are not a dump": in Serbia, wind of revolt against a lithium mine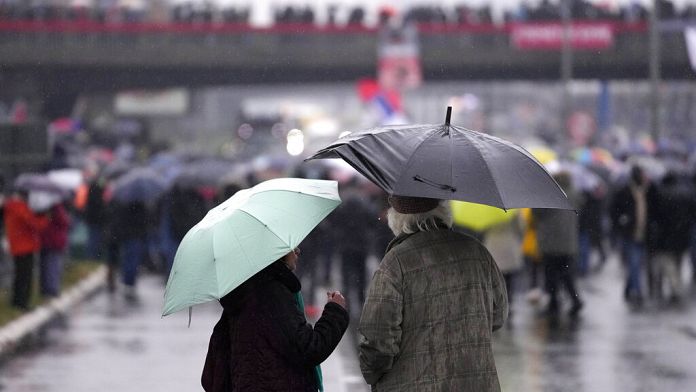 For the third week in a row, environmental activists blocked several roads in Serbia on Saturday to protest a controversial lithium mine project.
In the Jadar Valley in Serbia, farms and corn fields stretch out as far as the eye can see, but these bucolic landscapes hide one of the most important lithium deposits in Europe. Reserves that feed a vast rebellion in the Balkan country.
Environmentalists are strongly against what they see as an environmental disaster foretold in this region of western Serbia.
Beyond that, the future of reserves of the metal used in electric cars crystallizes mistrust of a government accused of being more and more autocratic but which wants to take advantage of Europe's aspirations for a greener future.
Billions of euros are potentially hanging in the balance. Anglo-Australian mining giant Rio Tinto, which heads the project, says it is likely to add a percentage point to national GDP and create thousands of jobs.
In a few years, this poor region close to Bosnia could become an essential part of Europe's ecological transition to lower carbon technologies.
Lithium is used in the composition of batteries of electric cars and electronic devices. Automakers around the world are in a race to electric, and demand for "white gold" is expected to soar. The European Union alone estimates that its lithium needs will be multiplied by 18 in 2030.
But environmentalists and residents alike accuse Rio Tinto and Serbian President Aleksandar Vucic of acting in secrecy and refusing to release environmental impact reports.
"Everything will be destroyed"
Local people fear that the region will be devastated by mining for the metal.
"If the Jadar project passes, everything around us will be destroyed," Dragan Karajcic, who lives in the village of Gornje Nedeljice, told AFP. "Everywhere it operates, Rio Tinto is wreaking havoc."
Opposition to the project is also fueled by rampant resentment against the government. Thousands of protesters have blocked major roads in recent weeks to criticize his management of the project.
In late November, violent attacks by masked men on protesters in the western town of Sabac sparked outrage, with netizens accusing the government of using thugs to silence dissent.
With his sights set on the likely legislative elections next year, Aleksandar Vucic tried to calm people down by promising to amend or withdraw laws accused by the protesters of promoting the project, stressing that nothing was being played out.
"I'm going to have to sit down and see if deep down we want this mine or not," he said this week.
According to Rio Tinto, the deposit has the capacity to produce enough lithium to power more than one million electric vehicles per year. The region also has vast reserves of borate used to produce solar panels and wind turbines.
The future mine would be located on the banks of the Jadar, a tributary of the Drina River, a vital source for agriculture in both Serbia and neighboring Bosnia. Environmentalists say any contamination from the mine would affect a much larger area.
Thousands of jobs
Rio Tinto, which has been exploring the region since 2004, responds to these fears by promising to observe "the highest environmental standards", according to a statement posted on its site.
But residents are not reassured by the history of the company, which in 2020 dynamited a 46,000-year-old site considered sacred by the Aboriginal community in Australia.
Opponents also highlight the Serbian government's liabilities in terms of industrial regulation as Belgrade seeks to attract Chinese investment.
"No to the mine. Yes to life," read the banners in Gornje Nedeljice, where Rio Tinto bought land by offering fortunes to owners for lots that would not be worth much elsewhere.
The first groundbreaking is scheduled for 2022 but the group is awaiting the final green light from Belgrade. The miner promises 2,000 jobs during the construction phase and a thousand more during the operational phase.
But for locals like Marijana Petkovic, the environment and community health risk being sacrificed on the altar of the green future of its wealthier European neighbors.
"Serbia must realize that we are no one's mining dump. Neither Europe's nor the world's."
Source link