News
War in Ukraine: what to remember from the fourth day of the Russian invasion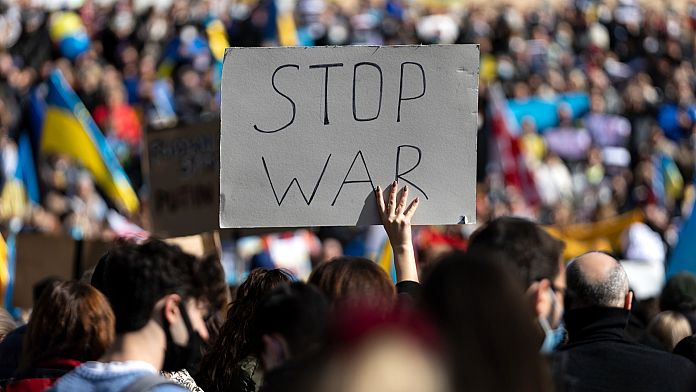 On the fourth day of the Russian military invasion in Ukraine, Kiev confirmed this Sunday talks with Moscow on the Ukrainian-Belarusian border while Vladimir Putin announced to put the Russian army's nuclear deterrent force on alert.
Here is the important information to remember this Sunday on the war in Ukraine:
Putin wields nuclear 'deterrent force'
Russian President Vladimir Putin has announced that he is alerting the Russian army's "deterrent force", which may include a nuclear component.
"I order the Minister of Defense and the Chief of Staff to put the Russian army deterrent forces on special combat alert regime," said Mr. Putin during an interview with his military leaders broadcast on television.
The Russian deterrent forces are a set of units whose purpose is to deter an attack against Russia, "including in case of war involving the use of nuclear weapons"according to the Department of Defense.
Reactions to the threat from Moscow
The head of Ukrainian diplomacy Dmytro Kouleba assured that his country will not "capitulate" to Moscow, denouncing the alerting of Russian nuclear deterrent forces as an attempt at "pressure".
According to him, Vladimir Putin's decision to place the Russian nuclear deterrent forces on high alert on Sunday is "an attempt to raise the stakes and put pressure on the Ukrainian delegation".
Vladimir Poutine "manufactures threats that do not exist", reacted the White House and denounced an "unacceptable" escalation.
NATO Secretary General Jens Stoltenberg denounced Moscow's "irresponsible" conduct. "It is dangerous rhetoric. It is conduct that is irresponsible"Jens Stoltenberg told the channel.
Talks in sight in Kiev and Moscow
Ukraine's presidency said it agreed to talks with Russia on the border with Belarus, near Chernobyl, a move following mediation by Belarusian President Alexander Lukashenko.
The Kremlin had previously said it was ready to negotiate with Ukraine, offering Gomel as a meeting place in Belarus, but Ukrainian President Volodymyr Zelensky had refused this place, as this country served as a rear base for the invasion of Ukraine.
When and where will the talks take place?
The Ukrainian presidency did not specify the date of these talks, but Russia indicated that they would take place on Sunday. According to Vladimir Putin, a Russian delegation is already present in Gomel.
According to Kiev, the meeting will take place without "prerequisite" on the Ukrainian-Belarusian border, "in the region of the Pripyat River"near Chernobyl.
The head of Ukrainian diplomacy Dmytro Kouleba has warned that his country will not "will not capitulate" facing Moscow.
Fighting in Kharkiv and Kiev
Ukrainian President Volodymyr Zelensky said that the night from Saturday to Sunday had been "hard" in Ukraine, on the fourth day of the invasion of Ukraine by Moscow, Russian bombardments having targeted inhabited areas according to him.
Ukraine's second city, Kharkiv (northeast), is under the control of Ukrainian forces, regional governor Oleg Sinegoubov said on Sunday, hours after announcing a breakthrough by the Russian army and street fighting.
The battle for control of Kiev also continues. Anti-aircraft warning sirens sounded in the night, but the situation was calm by morning.
About 30 kilometers south-west of Kiev, fighting is also continuing for control of the Vassylkiv air base, preventing firefighters from intervening to put out the major fire at an oil depot struck overnight by a Russian missile near that town, according to local authorities.
Nearly 370,000 Ukrainian refugees
Some 368,000 refugees have fled fighting in Ukraine since the outbreak of the Russian invasion on Thursday, more than half of whom have entered Poland, and their numbers "continue to rise", the United Nations and Polish authorities said on Sunday.
Support and sanctions from the international community
Several countries including France, Germany, Austria, Italy, the Scandinavian countries and Belgium have in turn announced the closure of their airspace to Russian planes.
The day before, Westerners excluded Russian banks from the Swift interbank platform, an essential cog in global finance, a decision that Japan joined on Sunday.
They also promised more arms to Ukraine, with Germany in particular breaking with its traditional policy of refusing to export lethal weapons to conflict zones.
On Sunday, the United States and Italy announced humanitarian aid.
And the West reserves "the right to impose" new sanctions on Moscow, warned German Chancellor Olaf Scholz while saying he was still open to discussions. "The world after will no longer be the same as the world before"he insisted.
At least 100,000 people demonstrated in Berlin on Sunday in solidarity with Ukraine.