News
War in Ukraine: Ukrainian journalist Vira Ghyrytch killed in Russian strikes in Kyiv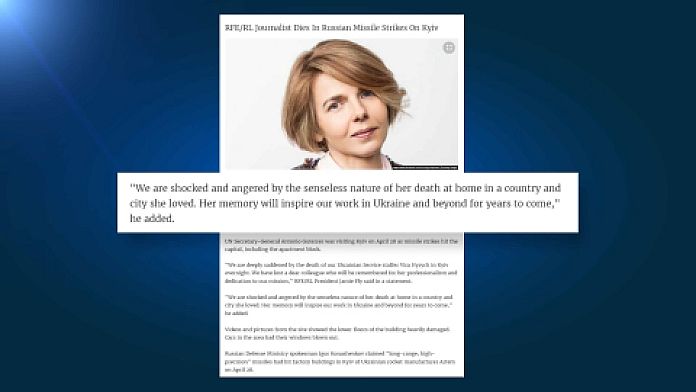 In Ukraine, in full visit of the boss of the UN, a journalist was killed in the Russian bombardments this Thursday. Moscow claimed responsibility for the strike on Friday.
Vira Ghyrych's body was discovered in her home under the rubble the day after the bombings. She had been working since 2018 for the Kyiv office of Liberty Radio.
"We are shocked and outraged by the senseless nature of her death, in her home, in a country and city she loved. Her memory will inspire our action in Ukraine and beyond for years to come," said the president of the US-funded outlet.
The mayor of kyiv, Vitali Klitschko, in a video where he filmed himself, underlined the "symbolic" nature of these bombardments, at the time of the visit of Antonio Guterres.
"Putin gave him a salute. He gave him the middle finger by aiming at our houses, destroying them. His target is not buildings, but rather people's lives," said the mayor of the capital.
At the end of March, a Russian journalist, Oksana Baoulina, was killed in the explosion of a rocket while she was filming the damage caused by a previous strike in Kyiv on a shopping center in the central district of Podil.
According to the Committee to Protect Journalists, at least seven media workers have been killed in Ukraine since the start of the Russian offensive.