News
War in Ukraine: towards a partition of the country, as in Korea?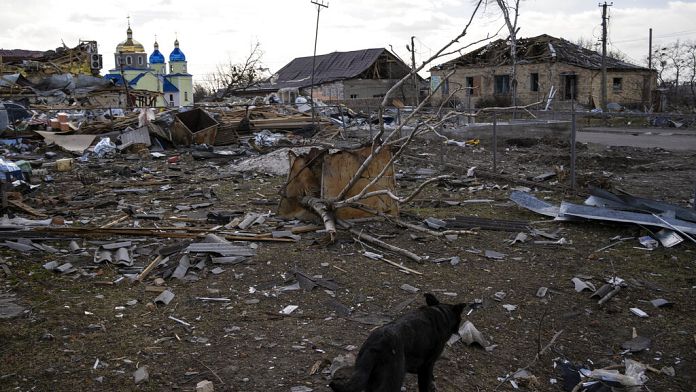 More than a month after the start of the war in Ukraine, Russian troops continue their bombardments.
Targeted fuel depots
They notably targeted this weekend fuel depots in Lviv, the large western city, relatively spared so far from the conflict. The strike, followed by a gigantic fire, injured several people according to local authorities.
Satellite images have also shown another fuel depot hit by a missile in the kyiv region, where Russian forces appear static.
The "liberation" of the Donbass, a priority for Moscow
They are now concentrating their efforts on eastern Ukraine in order to "liberate" the Donbass, which has become Moscow's main objective, according to a Russian official.
The Ukrainian intelligence chief said he feared a partition of the country like in Korea, adding that Russian forces, after failing to conquer the country, would face fierce guerrillas.
For his part, the head of the separatist territory of Lugansk, whose independence Moscow has recognized, announced the forthcoming organization of a referendum to join Russia: "Soon there will be a referendum on the territory of our Republic, where the people will be able to exercise their right and express their opinion on joining the Russian Federation," said Leonid Passetchnik.
Volodomyr Zelensky praises "heroism" in Mariupol
On Saturday evening, Ukrainian President Volodomyr Zelensky again called on Westerners to provide more weapons, especially fighter jets and tanks, to defend cities against Russian invasion, including the besieged port city of Mariupol.
Volodymyr Zelenskyy hailed the courage of Ukrainians defending the city:
"I spoke to the defenders of Mariupol today. I am in constant contact with them. Their determination, their heroism and their firmness are astonishing. I am grateful to all the men and women who defend their country. If only those who have been thinking for a month about how to deliver dozens of planes and tanks had even 1% of their courage."
At the same time, the exodus of Ukrainians seems to be slowing down, as more than 3.8 million people have already fled abroad. And 6.5 million of them have been displaced inside Ukraine.