News
War in Ukraine: these civilians who take up arms to defend their country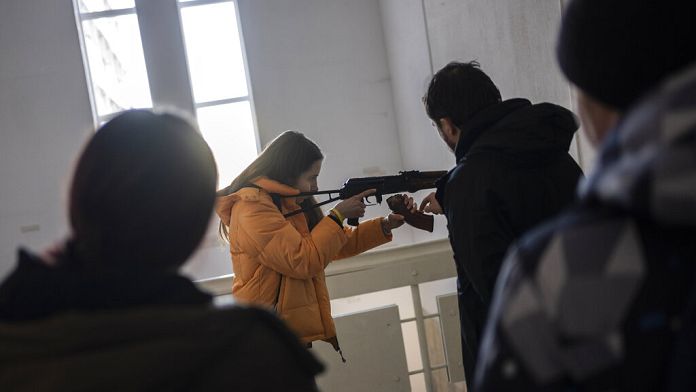 In Ukraine, some civilians learn how to handle weapons. Their goal: to participate in the defense of their country. Report on one of these training camps.
Civilians learning how to handle weapons. We are in Lviv, western Ukraine.
Civilians, young or less young, volunteer to defend their country. You still have to know how to do it.
Hence these training courses, supervised by professional instructors.
Denis Girenko is one of the shooting instructors. "Our program, he says, is designed for people who have no experience and even for people who have never held a firearm.".
"First, we talk at length about security because it is essential. People shouldn't kill their loved ones, kill themselves or hurt themselves… That's why we spend a lot of time explaining things beforehand. Then there is the handling of weapons: you learn how to load a weapon, how to reload it, how to stand, how to aim…."
Participants in these courses also acquire the basic notions of first aid : know how to react when you yourself are hit during combat.
Before the war, the Ukrainian army was already organizing these training courses, intended for the reservists of the Territorial Defense Forces.
Since the outbreak of the conflict, civilians have chosen to take up arms.
This is the case of Rosa, a young woman, settled until then in Poland. She chose to return to her country to fight.
"I have three years of military experience, she says. From now on, I have nothing more to do in Poland. What matters is my country. My husband has already returned to Ukraine, I will join him, and we will go to fight."
Difficult to have a precise figure on these Ukrainian expatriates who return to their country to fight. And those who do not take up arms volunteer to help in hospitals or to distribute food.