News
War in Ukraine: the inhabitants of Lutsk face the bombardments of the Russian forces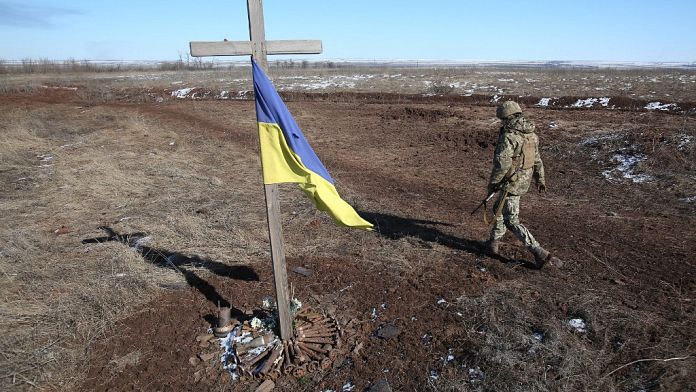 Four Ukrainian soldiers were killed and six injured in the shelling of Lutsk military airport in northwestern Ukraine.
Our special correspondent Anelise Borges went to meet the inhabitants of Lutsk who are facing the bombardments of the Russian forces.
Anelise Borges, Euronews:
"We are not far from the Ukrainian military airfield targeted by Moscow on Friday morning. We have just been there and a soldier gave us this. This is a piece of shrapnel from one of the missiles that hit this Initial reports put the death toll at four soldiers killed.
Until now we had no official toll, but this Saturday Ukrainian President Volodymyr Zelensky said that 1300 Ukrainian soldiers had lost their lives since the start of the war.
The atmosphere in this part of Ukraine is much heavier since Russian forces began targeting the west of the country.
The city of Lutsk, which has around 200,000 inhabitants, is currently under tension. There are many calls for a no-fly zone over the country before it's too late."
Residents are losing hope
Olena is a Ukrainian who has lived near the air base for more than 22 years and tells us what she felt during the bombardment by Russian forces: "I looked up and saw the missile flying above us. First it was like fireworks, then there was a loud bang. I jumped over the barrier and my friend told me to take our passports and leave."
With no place to go, Olena and her friend finally returned home. But after almost three weeks of war, Olena begins to lose hope:
"They (the Americans) say that NATO does not want to help Ukraine. At the head of the United States there is this annoying old man. The Americans say that Moscow and Kyiv should solve this by themselves. But Putin has gone mad, he's sitting in his bunker protecting himself from bombs."
Olena still doesn't want to leave town. Her daughter and other family members have already left. But she is aware that she will soon have to join the millions of people who have already decided to flee the country.
"Moscow is trying to drag Belarus into the war"
Anelise Borges, Euronews:
"Ukrainian authorities have also made it known that Belarus may intend to invade Ukraine According to Kyiv, Russia is trying to drag its ally into the war by staging airstrikes from Ukraine.
Ukrainian President Volodymyr Zelensky said on Saturday he had spoken to German Chancellor Olaf Scholz and French President Emmanuel Macron after they spoke with Vladimir Putin on the phone.
Diplomatic efforts continue as the war draws ever closer to Europe."