News
War in Ukraine: new bombings in several cities this Saturday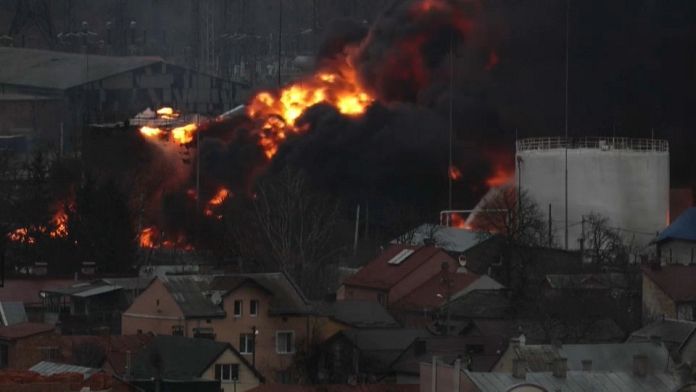 So far spared from the fighting, Lviv was the scene of Russian strikes this Saturday, March 26. Two missiles hit this town in western Ukraine, located a few dozen kilometers from the Polish border.
Injuring at least five people, these bombings also targeted a fuel depot. But according to the mayor, no residential buildings were affected.Until late afternoon, a thick curtain of smoke covered a large part of the city center.
For his part the Ukrainian President Volodymyr Zelensky rewarded the soldiers of the National Guard of Ukraine who, according to him, demonstrated "courage and dedicationin the face of Russian aggression.
Strikes near Kyiv
In the Kyiv suburbshelling injured at least 5 people including a child, and destroyed several houses. Some residents had to flee with their belongings, fearing another attack.
Russian forces on their side continue their show of forceas with a video of an alleged airstrike, published by the Ministry of Defence. Or with other images showing a Ukrainian command post destroyed by Russian troops in the Kyiv region.
Capture of Slavutych
Troops who also took control of Slavutych, located north of the capital. The city's mayor, Yuri Fomichev, was also reportedly kidnapped. An invasion that triggered demonstrations in this town of 25,000 people, built after the accident at the Chernobyl power plant… Already controlled by the Russians, since February 24, the day of the Russian invasion.
The International Atomic Energy Agency expressed Thursday, March 24 its "concern"after Ukraine informed of the Russian bombardment of Slavutych. The capture of the city comes after the first rotation of personnel to Chernobyl plant the last weekend since Russia took control of it.Approximately 100 Ukrainian technicians continued to run daily operations at the radioactive site for nearly four weeks without rotation.