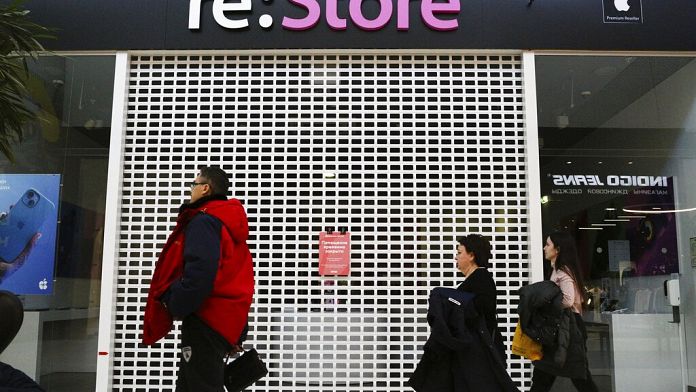 Several giants of the American economy, from ExxonMobil to Apple via Boeing and Ford, announced Tuesday that they were distancing themselves from Russia after the invasion of Ukraine.
Electronics stores re:Store, the main reseller of Apple products in Russia, closed on Wednesday saying it was a temporary decision.
But according to analysts, Apple's decision will mainly be Beijing's business.
"What's going to be interesting now is to see if Chinese manufacturers will try to fill the void left by Apple and the other Western companies that have left Russia. We don't know yet how that will go and what will be China's attitude towards the sanctions. But I think we will definitely see Chinese brands increasing their volumes in the Russian market," explains Ben Wood, chief analyst at CCS Insight.
Maritime transport impacted
Danish shipping giant Maersk also announced on Tuesday the suspension of new orders from and to Russian ports. However, this decision will not concern food, medical and humanitarian goods.
Shipowners CMA CGM, Hapag Lloyd and MSC have also announced that they will suspend deliveries to Russian ports.
Energy companies pull out of Russia
Sanctions against Russia do not currently affect the energy sector. However, several oil companies, such as BP, Shell and the Norwegian Equinor, have announced that they are leaving Russia. While the French TotalEnergies declared to maintain its activities in Russia but no longer engage in new projects.
The American oil giant ExxonMobil has announced its gradual withdrawal from a major oil field of which it is the operator in Russia and no longer wants to invest in the country.
The Italian hydrocarbon group Eni intends to sell its 50% share in the Blue Stream gas pipeline, which links Russia to Turkey and which it controls equally with the Russian giant Gazprom.
In Europe companies such as Volkswagen, BMW and Volvo have announced the halt of deliveries and the suspension of their production in Russia. And the list should continue to grow.
Moscow announced Tuesday that it was preparing a decree to try to stem this bleeding, by imposing temporary restrictions on the exit of foreign investors from Russian assets.