News
War in Ukraine: Kyiv announces the destruction of a Russian ship near Mariupol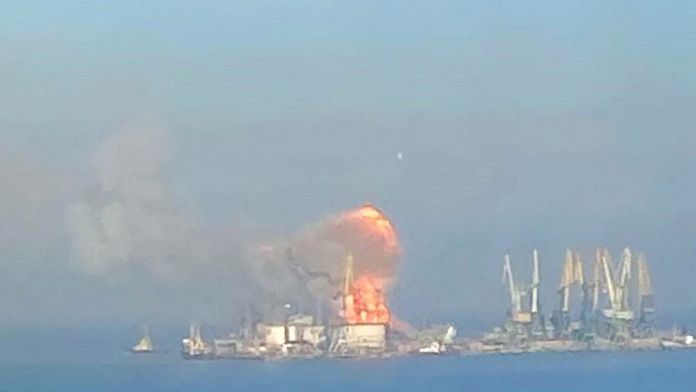 After a month of war in Ukraine, the military fronts are frozen and the Russian army has suffered a new setback by losing its first important warship.
The Ukrainian navy said on Thursday it destroyed a Russian troop carrier anchored in the port of Berdyansk, a town near Mariupol on the Sea of ​​Azov. This amphibious assault ship was capable of carrying 1,500 tons of equipment, 20 tanks and 400 soldiers.
Deportation of Ukrainian civilians
The situation in the city of Mariupol, on the Sea of ​​Azov, heavily bombed, is deteriorating further, the Ukrainians denouncing the "mass" deportation of inhabitants to Russia.
The mayor of Mariupol, Vadim Boychenko, advanced Thursday evening on Telegram a final assessment of 15,000 inhabitants taken "by force" on board buses, as well as "the confiscation of Ukrainian passports" of inhabitants stuck there.
Chechen leader Ramzan Kadyrov says his paramilitary militia, which fights alongside the Russian army, has taken over the town hall of this strategic port city. Information impossible to confirm from an independent source. And the Ukrainian army ensures that Mariupol has not yet fallen.
The offensive continues elsewhere in the country, on Thursday in northeastern Ukraine in Kharkiv at least six civilians were killed in a Russian bombardment. kyiv also accuses Moscow of using phosphorus bombs in cities like Popasna, Izium and Rubizhne.
121 children killed since the beginning of the war
In his latest video posted on Facebook, overnight from Thursday to Friday, Ukrainian President Volodymyr Zelensky, entrenched in kyiv, pays tribute to "the heroic opposition of the Ukrainian people in the face of the Russian military invasion".
In a month of war, thousands of Ukrainians have been killed, including 121 children, 6.5 million have had to leave their homes, and more than 4,300 of them have been destroyed, according to a latest report from the Ukrainian president.