News
War in Ukraine: European volunteers at the Polish border to help refugees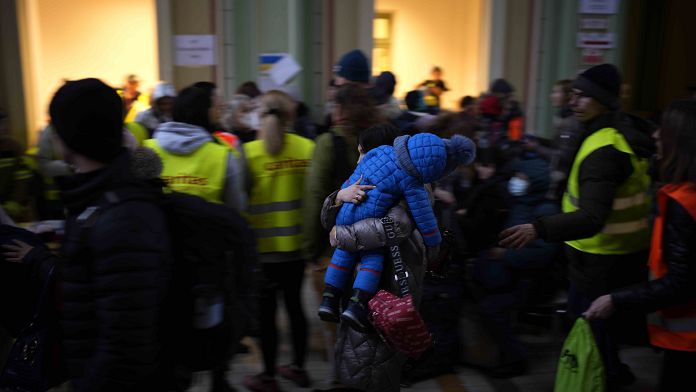 While the number of Ukrainian refugees exceeds the 2 million mark, the Europeans respond "present" to welcome them. At Przemysl station in Poland, dozens of volunteers from all over Europe arrive every day to help Ukrainians who have managed to cross the border.
As our reporter Monica Pinna explains, it is impossible to know exactly how many Europeans have traveled to the Polish border to help the Ukrainians. But these people show the whole world "the power of solidarity".
Italian volunteers who hope to lead by example
Volunteers have made the trip from southern Italy, they are there to bring with them about 40 refugees and they hope to set an example for others.
"In Italy there are about eight thousand cities, if only half of these municipalities sent a bus here, we could accommodate 200,000 Ukrainians", explains Antonio Maglione, president of the Ghirotti Basilicata association.
The young Olexsandra Mazharola will therefore leave with them for Italy. With her one-month-old baby, she fled the city of Kharkiv which was bombarded by Russian forces.
"I really hope we can come back to Ukraine"
"We decided to leave because it was no longer safe for my daughter, for my parents and for me. My husband stayed there. I really hope that we can come back in a few months, because he misses a lot. We want to go back to our country", Olexsandra said.
Norbert comes from Stuttgart in Germany. He didn't have enough room in his vehicle to bring all the donations his friends had collected.
But Norbert is keen to welcome Ukrainians: "Even if it's a little more difficult, we want to welcome refugees to our home. It's always a little tricky to receive people at home. So I asked around, and I received 5 answers positive. We will therefore be able to bring a few people with us, there are even cats and dogs.
"We left, because Putin is killing our people"
Elizaveta Zaichuk is going to Germany with a few members of her family, but it's still very difficult to leave everything overnight.
"Our men stayed in the country to fight, while we have to take refuge in Poland or Germany. I could no longer stay in Kiev in Ukraine. Because Vladimir Putin is killing our people. He killed children, many children", said the young woman who can no longer hold back her tears.
During the first twelve days of the war, 1.2 million refugees had already crossed the Polish border. For most of them, this is only the first step of the obstacle course.