News
War in Ukraine: Chancellor Scholz wants to increase German defense spending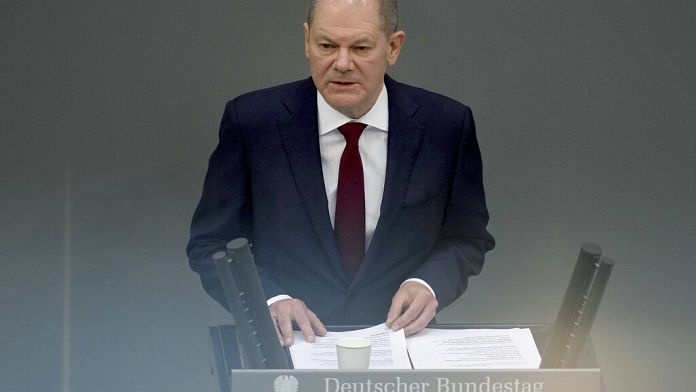 "The next world won't be the same". These words are those of the German Chancellor Olaf Scholz, who spoke this Sunday about the war in Ukraine during an extraordinary session in the Bundestag. He first reaffirmed his unconditional support for Ukraine and its citizens: "We must support Ukraine in this desperate situation, and we have done so to a large extent in recent weeks, months and years. But with the invasion of Ukraine, we have entered a new era. In Kiev and Kharkiv, and in Mariupol, people are not just defending their homeland. They fight for freedom and their democracy. For values ​​that we share with them."
While saying he is open to discussions with Russia, Olaf Sholz warned that new sanctions could be taken by the West, after two packages adopted in a few days which should notably make it possible to exclude many Russian banks from the interbank platform. Swift, essential cog in global finance.
2% of GNP for defense
And faced with "the Warmonger" Putin, the Chancellor also indicated that he wanted massively increase spending of Germany in the defense sector. He announced a unique "special fund" of 100 billion euros. From now on, Berlin will invest more than 2% of its gross national product in defense each year.
"The third big challenge is to prevent Putin's war from spreading to other countries in Europe. This means that we fully assume our duty to assist within NATO. This is what I said to our allies in Central and Eastern Europe, who fear for their safety. President Putin should not underestimate our determination to defend, together with our allies, every square meter of our alliance territory.", estimated the German chancellor.
Moscow's veto of a UN Security Council resolution condemning the attack in Ukraine is "a shame", insisted Mr. Scholz again as Berlin, in another major reversal, agreed on Saturday evening to deliver weapons to Ukraine in war, breaking with an official position in force since the end of the Second World War according to which Germany does not supply lethal weapons in the zones of conflict.
Finally, Germany, like many other European countries, will also close its airspace to Russian companies and Russian private jets from Sunday 2:00 p.m. GMT, announced the Ministry of Transport.