News
War in Ukraine: bombings in Mariupol, Zelensky and "the fate of victims"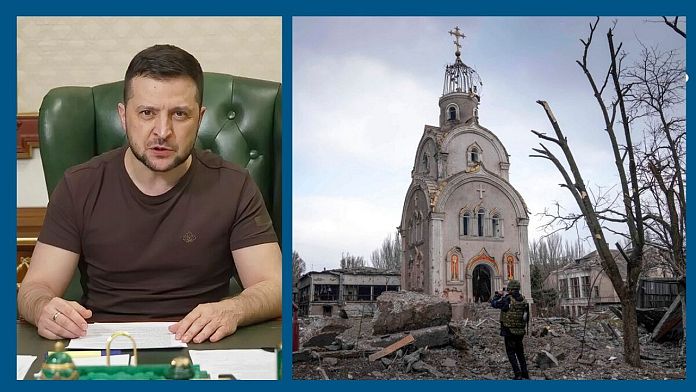 After 24 days of war in Ukraine, the bombardments continue, especially in Mariupol. The humanitarian situation is increasingly precarious. Ukrainian President V. Zelensky says he is worried, above all, about the "fate of the victims".
In Ukraine, the days of war follow one another and look alike, with fighting and bombardments, making life increasingly difficult for the inhabitants.
MARIOUPOL
The situation is particularly worrying in Mariupol. The city on the Sea of ​​Azov is surrounded by Russian forces.
According to a local official, some residents were taken against their will by the Russians and taken to the pro-Russian region of Donetsk.
For those who remain, living conditions are increasingly precarious.
Witnesses are particularly alarmed by the fate of a group of twenty children stranded in a sanatorium. Most are orphans and their guardians, because of the war, cannot come and collect them.
inflict"such a thing as a peaceful city (…), it is an act of terror that will be remembered even in the next century"Ukrainian President Volodymyr Zelensky said indignantly in a speech on Sunday. The siege of Mariupol "will go down in history to answer for war crimes", did he declare.
The bombardments also heavily damaged thesteel and metallurgical plant Azovstal of Mariupol, port and industrial city of crucial importance for the export of steel produced in the east of the country.
"One of the largest metallurgical factories in Europe is destroyed. The economic losses for Ukraine are immense", said MP Lesia Vasylenko, who posted a video on her Twitter account showing thick columns of smoke rising from an industrial complex. Another MP, Serhiy Taruta, wrote on his Facebook page that the forces Russians, who besiege Mariupol, "practically destroyed the factory".
ZAPOROJIA, KYIV, KHARKIV
In Zaporozhye (west of kyiv), the regional administration indicated that a bombardment on Friday had left nine dead and 17 wounded. Seven people were also killed and five injured by Russian mortar fire in Makariv, about fifty kilometers west of kyiv, according to regional police.
The bombings have not ceased in Kyiv, the capital, where sirens sounded on Saturday evening, according to social networks.
Bombings also in Kharkiv, a large Russian-speaking city in the northwest, where at least 500 people have been killed since the start of the war, according to official Ukrainian figures. A man and a 9-year-old child were again killed there by a bombardment, local authorities said on Saturday.
MYKOLAIV
Russian air raids continued at a rapid pace during the day on Mykolaiv, a city in southern Ukraine where dozens of soldiers were killed the day before in a strike against an army barracks, said on social networks the local governor Vitaliy Kim.
He did not provide details on the extent of the damage or the number of possible victims.
In Mykolaiv, witnesses gave assessments varying from simple to double after the destruction by six rockets of this barracks.
"No less than 200 soldiers slept in the barracks", said a 22-year-old soldier questioned on the spot, according to whom "at least 50 bodies were extracted". Another soldier estimated that there could have been 100 dead.
ODESSA
With Russian forces already making significant progress in eastern and southeastern Ukraine, eyes are now on the west. Thus the inhabitants of Odessa, on the shores of the Black Sea, are preparing for a Russian offensive.
Human toll of war
How many victims did this war claim? No recent official figures.
The Ukrainian president had mentioned on March 12 the death of "about 1,300" Ukrainian soldiers, while Moscow only reported nearly 500 dead in its ranks on March 2.
The UN said at least 800 Ukrainian civilians had already died, adding that the real toll was surely much higher.
And then there are the 3.2 million civilians who have taken the road to exile, nearly two-thirds of whom go to Poland.
In addition to those who have left the country, some 6.48 million people were considered internally displaced in Ukraine as of Wednesday, according to the United Nations and related agencies.