News
War in Ukraine: already several dozen dead on the Ukrainian and Russian sides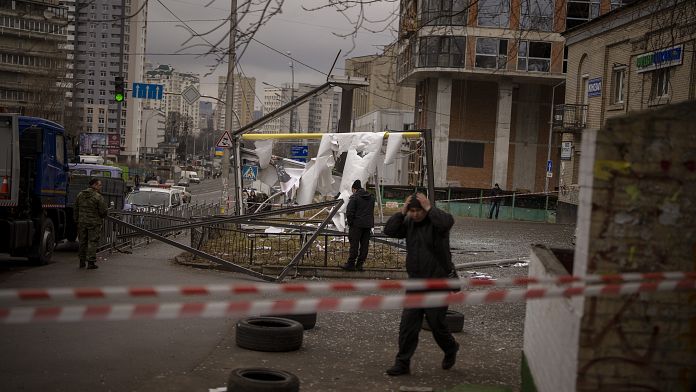 Residents of the Ukrainian capital woke up to the sound of air-raid sirens. This Thursday at dawn, the Russia decided to launch a military offensive on theUkraine in the name of the "defense" of the pro-Russian secessionist republics in the east of the country.
Shortly after the surprise announcement of Vladimir Poutinea series of explosions were heard in Kiev, Odessa, Kharkiv the country's second city, and Kramatorsk, which serves as the headquarters of the Ukrainian army.
Several people have chosen to flee the capital and long traffic jams have formed on the main roads of Kiev. In a speech, the President Volodymyr Zelensky declared to break diplomatic relations with Russia. Earlier in the morning, he had declared martial law across the country and called on residents not to panic. On the international level, he wants the creation of "an anti-Putin coalition" for "force Russia to peace."
"I spoke with Joe Biden, Boris Johnson, Charles Michel, [le président polonais] Duda, [le président lituanien] Nauseda. We begin the creation of the anti-Putin coalition. We have already called on world leaders to take all possible sanctions against Putin, to deploy full-scale defense support. We must save the democratic world", declared the Ukrainian president.
"Stop This Nightmare"
Anticipating international condemnation and sanctions measures, Vladimir Putin issued a stern warning to "countries that would try to interfere" with Russia. He also explained that this "special military operation was needed to "protect civilians in eastern Ukraine".
"It was impossible to tolerate this any longer, this nightmare had to be stopped immediately, the genocide of millions of people living there, who can only count on Russia, they only count on us. These exact aspirations, feelings and pain of people were the main motive that prompted us to take the decision to recognize the People's Republics of Donbass", affirmed in the night the head of the Russian state.
According to the Ukrainian Presidency, 40 soldiers and a dozen civilians Ukrainians were reportedly killed in the first hours of the clashes. The Ukrainian army claims to have killed 50 "Russian occupiers" and destroyed several tanks and planes.
The Kremlin said the Russian military operation in Ukraine "will last as long as necessary".