News
War in Ukraine: African refugees stranded at borders say they are victims of racism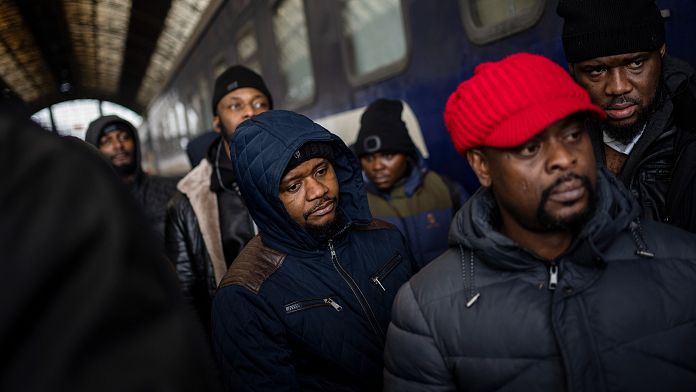 The war in Ukraine has thrown floods of Ukrainians onto the roads, more than 660,000 of whom have already fled to neighboring countries since the start of the clashes.
Among the hundreds of thousands of people trying to flee Ukraine to neighboring countries, including Poland, are many African nationals, mostly students. However, accusations of racist behavior towards them are increasing.
According to some testimonies, African nationals were blocked at the Ukrainian borders, to give priority to Ukrainians. Some videos, showing Africans turned back at stations and at the border with Poland, sparked outrage on social media.
"They don't let Africans through. Blacks who don't have European passports don't get through… They just turn us away because we're black!" explains to France 24, Michael, a Nigerian student.
Some Nigerians who crossed the border described their journey in darkness to crowded borders where officials prioritized Ukrainian women and children.
Reactions from African countries
The African Union (AU) reacted quickly saying it was particularly concerned by reports that African citizens, being on the Ukrainian side of the border, were being denied the right to cross the border to safety.
The Senegalese Head of State, Macky Sall, recalls that "everyone has the right to cross international borders during a conflict […] regardless of nationality".
"To treat Africans differently would be shocking and racist and would violate international law," he points out.
Nigeria on Monday urged border authorities in Ukraine and neighboring countries to treat its citizens with dignity.
"Regrettable reports indicate that Ukrainian police and security personnel are refusing to let Nigerians board buses and trains to Poland," said Nigerian presidential spokesman Garba Shehu.
South African Foreign Ministry spokesman Clayson Monyela also claimed that Africans were being mistreated at the Ukraine-Poland border, and that the South African ambassador s went there to help a group of stranded South Africans, mostly students, to enter Poland.
Denial of Ukraine and Poland
The Ukrainian authorities denied this information by insisting that there was no nationality favored more than another to cross the border. Only Ukrainian men, aged 18 to 60, are banned from leaving the country.
These accusations of racism have also been rejected by Poland. "Everyone receives equal treatment. I can assure you that according to the information I have, some Nigerian nationals have already crossed the border into Poland," assured the Polish Ambassador to Nigeria, Joanna Tarnawska.
Moscow: "the racist and colonial face of the West"
Moscow was quick to react to accusations of racism against the Ukrainian authorities.
The Russian Embassy in France's twitter account commented on the African Union's statement, saying, "See the true face of the West: a racist and colonial face.
According to UN estimates, the war in Ukraine could result in "more than 7 million" internally displaced people if the Russian offensive continues.
Overall if the war continues, "about 18 million people will be affected on a humanitarian level" in Ukraine and in neighboring states, according to the European commissioner in charge of crisis management.