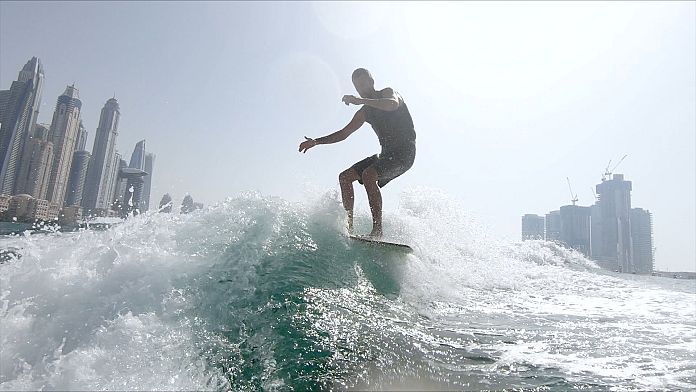 Wakesurfing is one of the most popular sports in the United Arab Emirates. In many ways it"s similar to surfing, but ocean rollers aren" t essential for practicing it. Riders with a board shorter than a surf are initially towed by a specific boat that generates a "perpetual wave". Once on their feet, they can release the rope, then place themselves in the wake of the boat to perform turns and tricks. It is therefore a water sport suitable for lakes and the sea.
"The best boats and the most beautiful sites"
In Dubai, there are more than seven companies that offer this activity in different sites and nautical spaces. Sea Riders in Jumeirah is one of the many places where one can try the experience.
Hasan Jad, the founder of Rakmajeh, teaches this practice, but strives to create a community of wakesurfers and surfers. "Dubai has a lot to offer in terms of sporting activities, especially in water sports gliding : you can find the best boats and the most beautiful sites in Sea Riders," he assures me. "There is no wave here, it is one of the flatest seas to practice," he has fun, congratulating himself that this sport attracts more and more.
"Wakesurfing appeals to those who love the sport and want these conditions to learn and make progress," Hasan Jad added. "Today, in international competitions, there are wakersurfers who started at the Emirates and I hope to do like them in the future," he confides.
"You have such a feeling of freedom when you surf"
And it's not just beginners and amateurs who take the wave in Dubai. Wakesurf professionals come in winter or during the offseason to train under the sun all year round.
Professional wakesurfer couple Anthony and Jennifer Edwards tell us that Dubai has the right equipment and allows them to train when it's too cold in the UK. "You have such a feeling of freedom when you surf, you forget all your worries, you have fun, that's all and you get hooked very quickly," says Jennifer.
Her husband adds : "There are no better sensations, it is a sport that can be very frustrating sometimes because when you change a little bit of a movement, you end up in the water. So when you do things perfectly, you're so happy !"he enthuses.