News
Vladimir Putin says he is determined to continue the offensive against Ukraine "without compromise"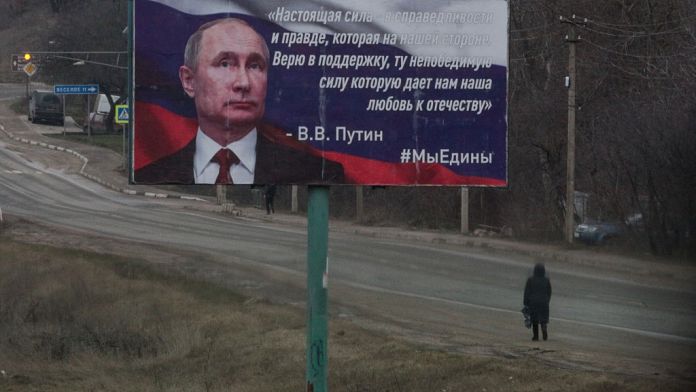 Russian President Vladimir Putin on Thursday said he was determined to continue the offensive against Ukraine "without compromise", and Russian forces pounded several strategic towns, despite the start of new talks between Kyiv and Moscow.
Last testimony of these deadly strikes, those which killed nine people and injured four while targeting two schools and homes in the Ukrainian city of Cherniguiv (north), according to the local governor.
The intensification of the Russian offensive, exactly one week after the start of the attack, coincides with new Russian-Ukrainian talks, which began shortly before 3:00 p.m. GMT on the Belarusian-Polish border.
Putin demands demilitarization of Ukraine
"Russia intends to continue its fight against members of nationalist groups who commit war crimes without compromise", Mr Putin said in a telephone interview with his French counterpart Emmanuel Macron, according to a Kremlin account.
He repeated his demand for demilitarization, denazification and neutral status for Ukraine, before warning: "Any attempt to buy time through negotiations will only lead to the addition of additional demands on Kyiv".
The French president, who said the day before still wanting to "keep in touch" with his Russian counterpart, believes after the call that "The worse is yet to come"and that Mr. Putin wants"take control" from all over Ukraineaccording to the Elysee.
Earlier, Ukrainian President Volodymyr Zelensky had promised to make the Russians pay for all the losses caused, in order to "rebuild every building, every street, every city".
If we disappear, then it will be Latvia, Estonia etc…
Ukraine's president on Thursday called on Westerners to step up their support, hammering that if his country were defeated by Russia, it would tackle the rest of Eastern Europe to achieve "to the Berlin Wall".
"If we disappear, may God protect us, then it will be Latvia, Lithuania, Estonia etc… Until the Berlin wall, believe me", said Volodymyr Zelensky, believing that the Kremlin could aim to rebuild the entire European sphere of influence of the USSR.
He also called on Westerners to impose a no-fly zone over his country.
"And if you don't have the strength to close the sky, then give me airplanes!", he exclaimed during a press conference in Kiev reserved for foreign media.
The Ukrainian President also declared to be ready to talk to his Russian counterpart Vladimir Putin.
"It's not that I want to talk to Putin, but I have to talk to Putin, the world has to talk to Putin because it's the only way to stop this war", he said, "we must speak without conditions, without resentment, like men".
But Mr. Zelensky also challenged his counterpart who ordered the invasion of his country a week ago: "What do you want from us? Leave our land!"
Before throwing:Sit with me at the negotiating table. But not at thirty meters as with (Emmanuel) Macron or (Olaf) Scholz. I'm a normal guy, I don't bite! Sit with me, tell me what you're afraid of!"
He thus made fun of the very long table at which the Russian president receives his Russian guests as foreigners because of the drastic health protocol to protect him from Covid-19.
Asked about the ongoing talks in Belarus between Ukrainian and Russian delegations, he felt that there was "things that need to be compromised on to get people to stop dying".
"But there are things on which it is impossible to find compromises. We can't just leave saying 'yes, this country is yours, Ukraine is part of Russia'. It's impossible. You don't have to offer it to us.".
However, Mr. Zelensky underlined the importance of diplomatic dialogue.
"Every word is more important than a shot", he concluded.