News
Vladimir Putin launches 'military operation' in Ukraine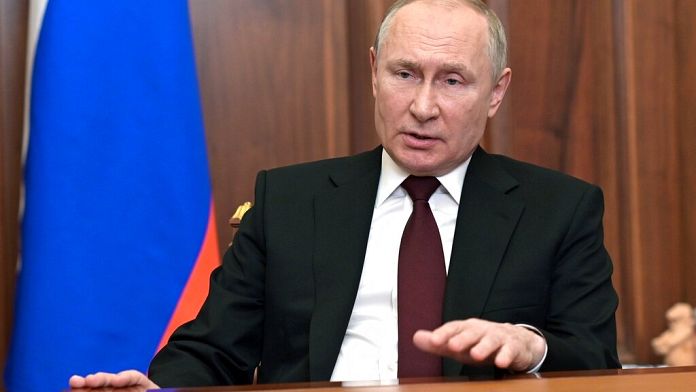 Russian President Vladimir Putin announced Thursday night a military operation in Ukraine to defend separatists in the east of the country, despite international outcry and sanctions imposed by the West.
Powerful explosions in Kiev, Kramatorsk and Odessa
Shortly after this surprise statement from the master of the Kremlin, at least two powerful explosions were heard at Kyivin the city center, and others in Kramatorskin the east, and at Odessaon the Black Sea.
Ukrainian Foreign Minister Dmytro Kuleba announced the start of a "large-scale invasion of Russia".
"Peaceful Ukrainian towns are being attacked. It is a war of aggression. Ukraine will defend and win. The world can and must stop Putin. It's time to act now", tweeted Mr. Kouleba.
"I made the decision for a special military operation"
"I made the decision for a special military operation"Mr. Putin announced at dawn in a surprise statement on television, without specifying whether this intervention would be limited to eastern Ukraine or whether it would be broader.
"We will strive to achieve demilitarization and denazification of Ukraine"said the master of the Kremlin sitting at a dark wooden desk, promising to lead "in court those who have committed many crimes, responsible for the bloodshed of civilians, including Russian citizens".
"We do not have in our plans an occupation of Ukrainian territories, we do not intend to impose anything by force on anyone"he assured, calling on the Ukrainian military "to lay down arms".
Then he addressed those "who would try to interfere with us (…) they must know that Russia's response will be immediate and will lead to consequences that you have never experienced before".
A few hours earlier, the Kremlin had announced that those responsible for the "republics" self-proclaimed pro-Russian separatists in eastern Ukraine had demanded the"aid" of Vladimir Putin for "repel aggression" Ukrainian.
On Monday, the Russian president had recognized the independence of these "republics" separatists in Donetsk and Lugansk, then obtained the next day from the upper house of the Russian Parliament the green light for a deployment of forces.
The international community unanimously condemns the Russian operation in Ukraine
As soon as the operation was announced, US President Joe Biden immediately denounced a "unwarranted attack"who will cause"human suffering and loss of life"."The world will hold Russia to account", he promised.
German Chancellor Olaf Scholz on Thursday morning described the Russian military operation launched in Ukraine as "glaring violationof international law, speaking of a "dark day" for the whole of Europe.
"Germany condemns in the strongest terms this unscrupulous act by President (Vladimir) Putin, our solidarity goes out to Ukraine and its people", he added in a press release.
European Commission President Ursula von der Leyen on Thursday denounced Russia's attack on Ukraine and pledged to ask Moscow to "accountable".
"We strongly condemn Russia's unjustified attack on Ukraine. In these dark times, our thoughts are with Ukraine and the innocent women, men and children who face this unprovoked attack and fear for their lives.", wrote Ms von der Leyen on Twitter. "We will hold the Kremlin to account".
NATO chief Jens Stoltenberg condemned a "reckless and unprovoked attack" by Russia. An emergency meeting of NATO ambassadors is to be held in the next few hours on Thursday.
At the UN, Ukraine called on Russia to "end the war", while France denounced the "contemptof Russia towards the United Nations.
British Prime Minister Boris Johnson on Thursday condemned the "horrible events in Ukraine", believing that Russian President Vladimir Putin "chose the path of bloodshed and destruction by launching this unprovoked attack".
"The UK and our allies will respond decisively", he tweeted, adding that he had spoken to Ukrainian President Volodymyr Zelensky.
prevent a "Great War in Europe"
Shortly after Vladimir Putin's speech on Thursday morning, the price of a barrel of oil exceeded 100 dollars, for the first time in more than seven years, and the Hong Kong Stock Exchange fell by more than 3%.
In a personal and emotional speech in Russian, the President of Ukraine Volodymyr Zelensky had, a few hours before the Russian President spoke in turn on television, called on civil society in Russia to put pressure on its leaders to prevent a "Great War in Europe".
"Do the Russians want war? I would love to know the answer to this question. And this answer depends on you, citizens of the Russian Federation" he said, accusing Moscow of deploying 200,000 troops to attack his country and revealing that he had tried unsuccessfully to talk to Vladimir Putin.