News
Vladimir Putin "ill-informed" on the course of the war in Ukraine, according to Washington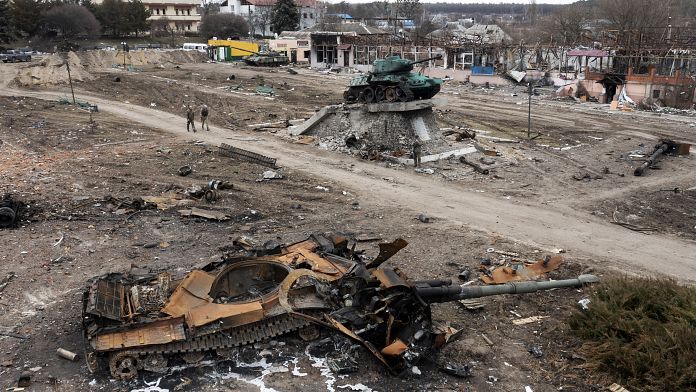 According to British and American intelligence, Russian President Vladimir Putin's advisers are "afraid to tell him the truth" about his "failing" war strategy in Ukraine.
Vladimir Putin would be "misinformed"of the course of the war in Ukraine. His advisers"afraid to reveal to him the military and economic losses suffered by Russia". Remarks made by Western intelligence, which strive to highlight Russia's failures in this war, and on the divisions within those close to the Russian president.
The commitment made by Moscow to reduce "radically"his military activity around Kyiv and in the northern city of Cherniguiv"perhaps shows that he was forced to question himself in a significant way", according to Jeremy Fleming, Director of British Intelligence.
This is confirmed by Washington, which remains perplexed by the changes in Moscow's plans, according to the White House communications director: "We believe that he is misinformed by his advisers on the performance of the Russian military, and on the Russian economy, crippled by the sanctions. Because, once again, his advisers are too afraid to tell him the truth".
On the ground, the hoped-for calm is still awaited. Despite the Russian-Ukrainian negotiations on Tuesday March 29 in Turkey, the Russian bombardments continued near Kyiv and Chernihiv. Less than 20% of Russian troops reportedly withdrew from the capital, after being repulsed by the Ukrainian resistance.
Promises to withdraw forces from Moscow, which Ukrainian President Volodymyr Zelensky does not believe: "We observe that Russia is gathering forces for new attacks in the Donbass, and we are preparing for it. We don't believe anyone. We don't believe in nice words. Something is happening on the battlefield. We will not give up and we will fight for every meter of our land, for every citizen".
Donbass
For its part, the Russian Ministry of Defense has already confirmed that it is redeploying troops, according to the spokesman Igor Konashenkov : "The objective of the redeployment of the Russian armed forces is to intensify activity in priority places and, above all, to complete the operation for the complete liberation of Donbass."
As Russia has claimed, its troops have stepped up their attacks in the Donbass region, controlled by pro-Russian separatists. In Donetsk, a missile reportedly killed two people and destroyed part of a building.