[ad_1]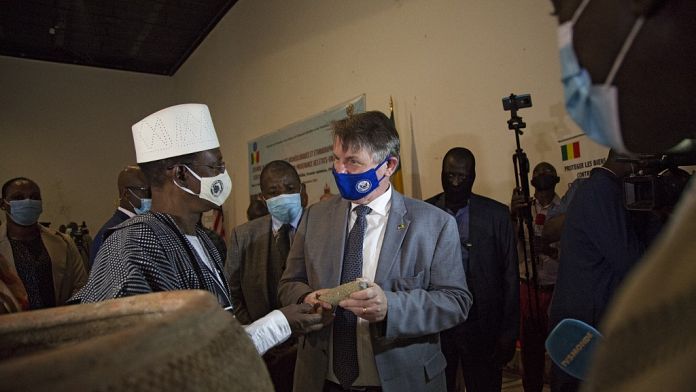 The United States has returned more than 900 works of art to Mali. The ceremony was held in Bamako in the presence of the Malian Prime Minister Choguel Maiga and the American Ambassador to Mali Dennis Hankins.
"The fine example of the United States government deserves to be followed by all countries where objects of national heritage are preserved," Choguel Maiga told reporters.
Intercepted in the port of Houston in 2009, these hundreds of works of art, archaeological objects, had been looted during the period of the great empires of Mali, Ghana and Songhai. They arrived last week in Bamako. Among these works are flax stones and ax heads dating from the Neolithic period.
The treasure also includes six funeral jars dating from the first century to the 18th century. Archaeologists estimate that 90% of sites in Mali have been looted.
In June 2020, the US State Department intervened to grant a grant to the National Directorate of Cultural Heritage of Mali to finance the repatriation and future exhibition of these objects, which made their return to the country possible.
Mali is recognized for the richness of its heritage and its thousand-year-old cultural artefacts which can be found in the cities of Djenné, Mopti or Timbuktu, but the illegal trade in objects is also commonplace.
A complicated return home
Mali was the cradle of three great empires: the Ghana Empire, the Mali Empire and the Songhai Empire. It was subsequently a French colony from 1895 to 1960
The 921 archaeological and ethnographic objects had been smuggled into the United States but were previously listed as replicas.
The objects were initially discovered in 2009 and then turned over to anthropologists to determine their authenticity.
The 2012 coup, which sparked years of chaos in Mali, complicated efforts to tackle the illegal trafficking of cultural and historical objects, and delayed the return of the 900 artefacts.
Mali plans to exhibit the objects in museums across the country.
[ad_2]

Source link