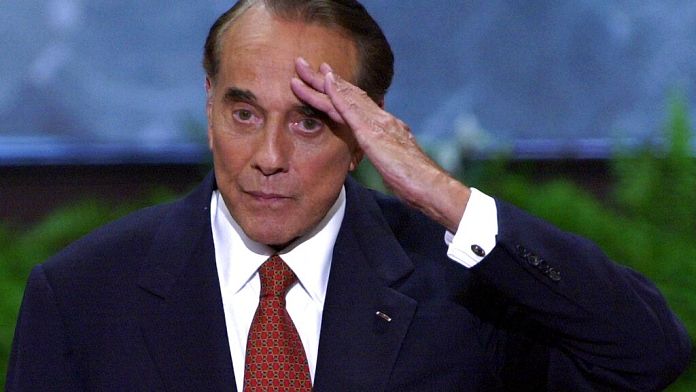 Former U.S. senator Bob Dole, figure of American politics, candidate for the White House and veteran of the Second World War, died Sunday morning at the age of 98, announced the Elizabeth Dole Foundation.
"It is with a heavy heart that we announce that Senator Robert Joseph Dole passed away early this morning in his sleep", tweeted the foundation, which bears his wife's name.
"Senator Bob Dole was a great man who lived an extraordinary life in the service of America and he will be deeply missed by all who had the privilege of knowing him", reacted the former vice-president Mike Pence.
Three times a candidate for the Republican candidacy for the White House, Bob Dole will be dismissed by Ronald Reagan in 1980, then by George Bush senior in 1988, before winning in 1996. But the outgoing Bill Clinton will easily win against this 73-year-old man, who seemed outdated in the age of television politics.
Returning medalist but seriously injured from the Second World War, he relearns to walk and regains control of his body, with the exception of his right arm.
He entered Congress in 1961, first as a representative, then as a senator from Kansas.
He was married to Elizabeth Dole, who herself had a distinguished political career as Secretary of Transportation, Secretary of Labor, and Senator from North Carolina.