News
United States: the White House correspondents' dinner is making a comeback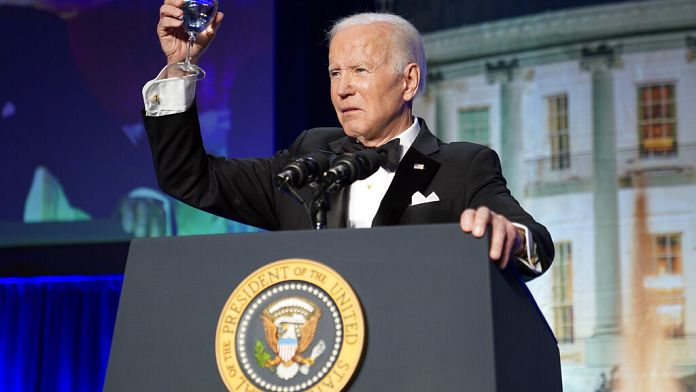 The president and the jokes are back, and the masks are gone, for the return of the White House Correspondents' Gala Dinner on Saturday night in Washington, where Joe Biden made humor while pointing to Russia.
"I am very happy to be here tonight with the only group of Americans whose popularity rating is lower than mine.", first launched the Democrat at the start of his speech.
And to mock his Republican predecessor Donald Trumpwho never showed up to that party, he observed that the past few years had been difficult: "We had a horrible plague followed by two years of Covid".
Joe Biden then adopted a more serious tone, paying tribute to journalists covering the war in Ukraine and warning about "the poison that is spreading in our democracy (…) with the disinformation that is increasing sharply".
"You, the free press, are more important than you have ever been in the last century.", he pointed out.
And to give the floor to the master of ceremonies, comedian Trevor Noahhe launched: "Trevor, the very good news is that now you will be able to spoof the President of the United States."."And unlike in Moscow, you won't go to jail", he added.
The comedian began by saying he was honored to be the emcee of "the nation's most distinguished supercontagious event". A reference to the fact that the gala was done without a mask, even if vaccination was required there.
Good figure
Joe Biden, 79 years old, did not wear one, but he did not attend the meal, as a precaution. Its vice-president Kamala Harris had tested positive for the coronavirus last week.
The journalists "have been so hard on you, which I don't understand", launched Trevor Noah to the attention of the head of state. "Since you've been in power, things are going up – you know, gas is up, rent is up, food is up. All".
Joe Biden laughed, putting on a good face and trying to distinguish himself as much as possible from Donald Trump, the only president since 1980 in having skipped the traditional evening dating back to 1924, organized by the White House Accredited Reporters Association (WHCA).
Washington's political and media elite remembers the Obama years well in mind, especially in 2011, when he targeted donald trump for his taste for conspiracy theories.
Once in power, the Republican president had shunned each of these gala evenings, he who regularly attacked journalists, "the enemies of the people". During the last edition, in 2019, neither president nor comedian was present.
This TV dinner was back Saturday night in the American capital after the pandemic and the Trump years, when the president's self-mockery and support for the press were not really fashionable.
Approximately 2600 people in evening dress, journalists and their guests attended at the Washington Hilton.