News
Ukrainian volunteers train to react in the event of a Russian incursion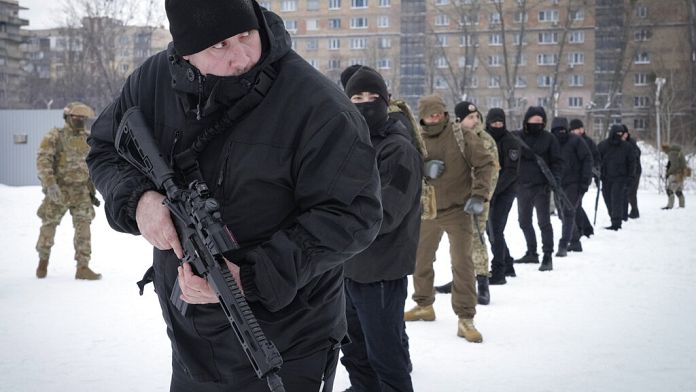 In the suburbs of Kyivthe Ukrainian capital, volunteers are being trained to be able to react in the event of a Russian incursion into their country.
"I am preparing to defend my country against Russian aggression because war will start sooner or later", explains Mikhailo R. who is a lawyer by trade. Others, like him, are researchers or even architects.
None of those training have military experience. But since Russia has massed more than 100,000 troops near the Ukrainian border, these volunteers find themselves at the heart of a crisis that could reshape their country and have repercussions for the entire continent.
"There is a certain tensionunderlines Ivan Golod, volunteer. It's not just something I feel, it's in society. It is not only because of the Russians positioned on the other side of the border or in the occupied territories but it is also because of the cyberattacks inside Ukraine. There is also the risk of attacks in schools and the metro. This has been going on for eight years."
"Last year, the situation became more tense. I am calm simply because I know what I will do in case Russia decides to make a full-scale incursion"he continues.
The Ukrainian Ministry of Defense considers these people to be a crucial part of its strategy. It plans to arm the 130,000 civilians who are part of these defense units.
"I think most people who are able to hold a gun right now should be prepared in order to take the least casualties and be more effective", recommends Denis Semirog-Orlyk. An architect by training, it was he who created this unit on social networks two years ago.
According to Denis Semirog-Orlyk, over the past six months, the number of participants in these trainings has quadrupled.
Ukraine is now counting on the support of its Western allies to put pressure on Moscow and to prevent Russia from invading its territory.
Many of these volunteers hope that diplomacy will prevail, but they still want to be able to fight back if provoked.