News
Ukrainian president says he is ready for negotiations with Moscow, but not in Belarus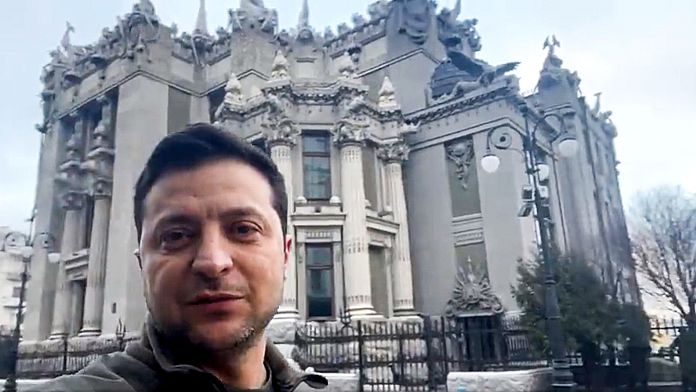 Ukrainian President Volodymyr Zelensky on Sunday rejected Russia's offer for talks in Gomel, Belarus, as the country serves as a rear base for the invasion of Ukraine, saying "any other city" would be fine.
"Warsaw, Bratislava, Budapest, Istanbul, Baku. We offered them all. And any other city would suit us," he said in an online video.
Volodymyr Zelensky also indicated that the night had been "hard" in Ukraine, with Russian bombardments having targeted, according to him, inhabited areas.
"Last night was hard, again shooting, again bombardments of inhabited neighborhoods, civilian infrastructure. There is nothing today that the occupier does not consider a legitimate target", he said in a video posted on social media.
the Kremlin again talks about negotiations
The Kremlin assured this Sunday that it was ready to negotiate with Ukraine, offering Gomel as a meeting place in Belarus, a country from which Russia invaded Ukraine.
A delegation of representatives of "ministries of foreign affairs, defense and other services, including the presidential administration arrived in Belarus for negotiations with the Ukrainians", according to the spokesman of the Russian presidency, quoted by national agencies.
The Kremlin had already mentioned talks on Friday, but several Ukrainian officials had indicated that it was not a serious proposal, Moscow seeking to obtain the surrender of Ukraine.
Moreover, just after the proposal to open the dialogue, President Vladimir Putin called on the Ukrainian army to stage a coup and called the country's authorities a "clique of drug addicts and neo-Nazis".
Vladimir Putin, on Special Forces Day, hailed their role in the invasion, expressing "particular gratitude to those who heroically carry out their duty" in Ukraine, which Russia invaded despite an international outcry on Thursday.