News
Ukrainian forces train in the Chernobyl exclusion zone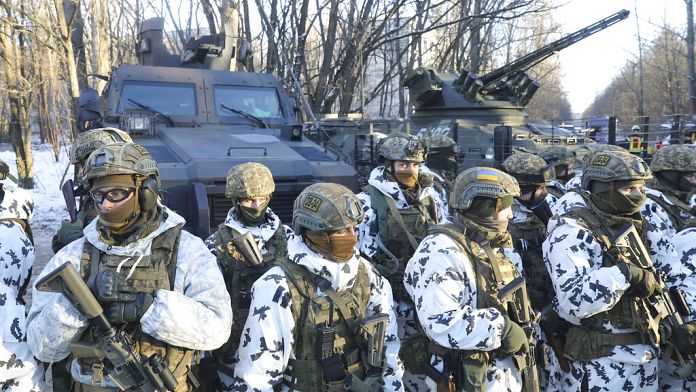 It's one of the most radioactive places on the planet, uninhabited for more than 35 years, and yet shots ring out: Ukrainian forces train in urban combat in the Chernobyl exclusion zone near the border Belarusian.
Ukrainian National Guard troops held live ammunition drills Friday in abandoned buildings in Pripyat, a ghost town located just a few kilometers from the Chernobyl power plant and from which almost 50,000 inhabitants had been evacuated in three hours on April 27, 1986, never to return home.
The area is now sensitive for another reason: Moscow has massed more than 100,000 troops along the Ukrainian border, raising fears in the West of an offensive in Ukraine, and has deployed the military to Belarus, just 10 kilometers to the north. of Pripyat for military maneuvers.
For Ukrainian forces, the deserted streets and empty buildings of the city evacuated during the worst nuclear disaster in history, constitute an ideal training ground.
In winter camouflage, these elite forces practiced dislodging armed attackers from buildings or confronting snipers in urban environments.
Emergency services organized evacuations, ordered through loudspeakers carried by drones, and fought fires started by fighting.
"Since there are no civilians around, we can carry out exercises with real ammunition in conditions as close as possible to real urban guerrilla warfare", explains a member of the National Guard, who presents himself under the nickname Litva.
Before training (unprecedented in Pripyat), employees equipped with Geiger counters had to study the premises to check that there was no point that was too radioactive.
"Everything has been checked and there is no danger", assures Litva, clutching his automatic rifle to his chest.
Some Western capitals like Washington and London accuse Russia of preparing an upcoming offensive against Ukraine. The Kiev authorities are showing themselves to be more measured, judging it pointless to sow "panic".
Forests, swamps and radiation
In Pripyat, the Minister of Defense Oleksiy Reznikov downplayed the likelihood of an incursion by Russian forces sent into Belarus.
While the United States estimates that these troops could represent 30,000 military personnel, he insisted that the "a few thousand" of Russians currently crossing the Belarusian border are not numerous enough to attack.
"This area is very difficult to cross, with forests, swamps, rivers, it's already complicated to get around on foot and even more so with a tank", explained the minister to journalists invited to a press trip to attend the training sessions. "And do not forget that since the disaster there are still highly radioactive areas on the road to Belarus".
Ukrainian Interior Minister Denys Monastyrsky said that due to the renewed tension, security had been tightened around all nuclear reactors, including the Chernobyl site, now covered with a gigantic protective sarcophagus.
"We are absolutely sure that the Chernobyl nuclear power plant is not threatened", said Monastyrsky.
National Guard troops in Pripyat were not training to counter a full-scale Russian invasion. Rather, they were preparing to face the threat of plainclothes undercover agents who could seize buildings and cause unrest.
That's what happened when Russia annexed the Crimean peninsula in 2014 and backed the separatist rebellion in eastern Ukraine. And it is this type of scenario that Kiev says it fears today, more than a large-scale offensive.
"We have to show that we are ready to react to all events", explained Mr. Monastyrsky.