News
Ukrainian crisis: "certain ideas" of Macron can make it possible to move forward (Putin)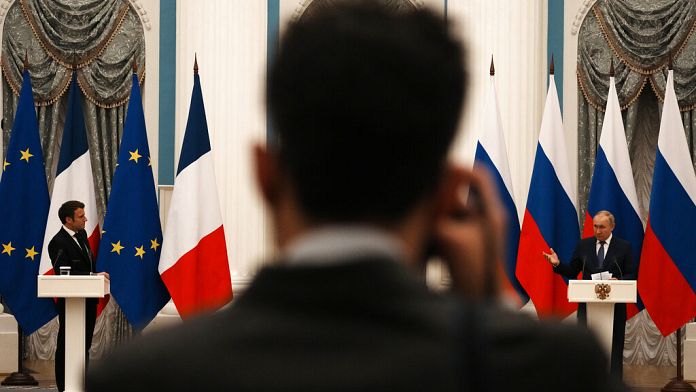 Russian President Vladimir Putin said on Monday that some of the ideas of his French counterpart Emmanuel Macron to defuse the Russian-Western crisis over Ukraine could lead to progressafter more than five hours of talks in Moscow.
"Some of his ideas, his proposals (…) are possible to lay the foundations for common progress", said Mr. Putin, during a joint press conference, while judging it premature to expose them publicly.
The Russian and French presidents will talk to each other again after the meeting of Mr. Macron and his Ukrainian counterpart Volodymyr Zelensky in Kiev on Tuesday, according to Mr. Putin.
Putin blames NATO for tensions
The Russian head of state has again drawn up an indictment against NATO, accused of having expanded over the past thirty years to the point of threatening Russia.
"They try to calm us down with assurances that NATO is a peaceful and defense organization", he said, before quoting "Iraq, Libya, Belgrade" in counter-examples.
He again denounced Western military aid to Ukraine.
Mr. Putin also criticized the Western refusal to accept his main demands: the end of NATO's enlargement policy, the commitment not to deploy offensive weapons near Russian borders and the withdrawal of military infrastructures of the Alliance on the borders of 1997, that is to say before the organization welcomed into its midst former members of the Soviet bloc.
The Russian president finally once again accused Ukraine of being solely responsible for the impasse in the peace talks in the conflict between Kiev and pro-Russian separatists, widely considered to be sponsored by Moscow.
"Kiev still rejects all opportunities for a peaceful restoration of its territorial integrity," Putin said.
He also did not consider that Russia was behaving in a belligerent manner, despite the deployment of tens of thousands of soldiers near the Ukrainian borders for weeks, raising fears in the West of a new invasion.
"To say that Russia is behaving aggressively is illogical," he said, "we are not the ones heading towards NATO borders.
Scholz in Washington
US President Joe Biden and German Chancellor Olaf Scholz for their part boasted of their harmony on Monday in Washington in the crisis around Ukraine, but did not really manage to speak with the same voice on the very controversial Nord Stream gas pipeline. 2.
"If Russia invades (Ukraine), that means tanks and troops crossing the border into Ukraine, again. Then there will be no more Nord Stream 2. We will end it", said Joe Biden about this gas pipeline linking Russia to Germany, already built but which has not yet entered into operation.
Germany cautious about Nord Stream 2 gas pipeline
The American president, however, did not specify how the United States could cut off this underwater infrastructure directly linking Russia to Germany.
At his side during a joint press conference, the German Chancellor, pressed with questions on the subject, was not so explicit. United States and Germany are "absolutely united"on the sanctions to be imposed on Russia if it ever attacked, assured Olaf Scholz, making sure not to mention Nord Stream 2 by name.
He said, however, that in his opinion, one should not "not put on the table"immediately all possible retaliatory measures.
The Nord Stream 2 question has weighed on relations between Washington and Berlin for years, but it has taken on particular urgency with the crisis around Ukraine.
The United States has long argued that this infrastructure gives Moscow too much energy and strategic leverage.
The two nations can "count on each other"
Joe Biden was however convinced last year by former Chancellor Angela Merkel to suspend American sanctions which weighed on the project.
The American president nevertheless wanted to show his good understanding with Olaf Scholz on Monday.
Joe Biden assured that Germany and its leader had "all the confidence of the United States", at a time when the German position vis-à-vis Russia is considered too cautious by many American commentators.
Olaf Scholz felt that the two nations could "count on each other".