News
Ukrainian crisis: arrival of first American military reinforcements in Romania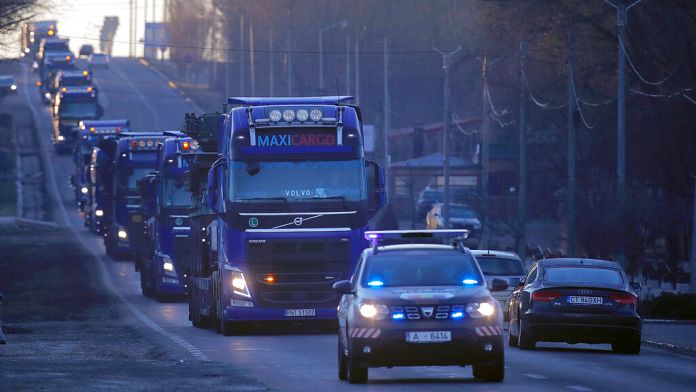 In a context of tension with Russia, the first convoy carrying American military equipment and vehicles arrived this Friday morning in Constanta, Romania.
"Here you can see the arrival of American armored vehicles. They are mounted on 8 wheels, have a power of 350 horsepower, and quickly reach 100 km/h", says euronews reporter Claudiu Popa who is on site.
"The rest of the troops will not delay"
"A hundred American soldiers, specialists in charge of preparing the deployment (of the future contingent), have already arrived", Romanian Defense Minister Vasile Dancu said.
"The rest of the troops will not delay" to join them, he added, without further details on the timetable or the military bases where these soldiers will be stationed.
The United States announced in early February the dispatch of 3,000 additional American soldiers to Eastern Europe, including a thousand to Romania, in support of NATO forces.
Westerners fear an invasion of Ukraine, with tens of thousands of Russian troops deployed on the Ukrainian border.
The first American soldiers also arrived in Poland on Saturday, where a total contingent of 1,900 soldiers is expected.
France, ready to "commit to new missions"
France, ready to "commit to new missions" according to its President Emmanuel Macron, for its part sent experts to Romania at the end of January, with a view to the possible deployment of troops.
This series of announcements aims to strengthen NATO's military presence in the Black Sea area, where it is currently much weaker than in the north, in the Baltic region.
Romania, a member of the Atlantic Alliance since 2004, already hosts 900 American soldiers, 140 Italians and 250 Poles.