News
Ukrainian 'Child of Chernobyl' reunites with foster family in Italy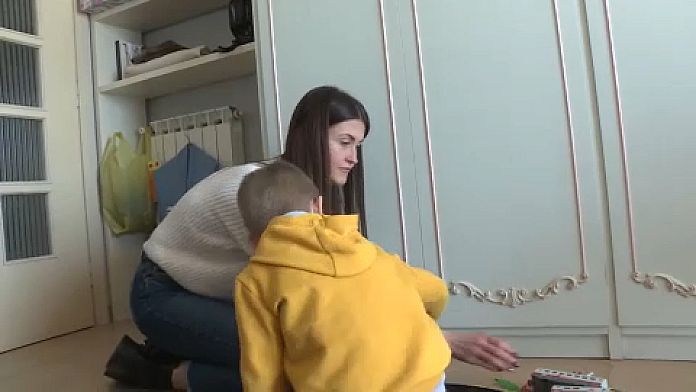 At the Cioffi family home in Ercolano near Naples, a mother plays with her son. This serene setting is a far cry from the tension endured by the many Ukrainian families who try to flee the war by all means. Taisia ​​Vechurko managed to reach Italy with her son and found refuge with the same family who took her in as a "Child of Chernobyl" after the 1986 nuclear disaster. That was 26 years ago.
The 7-year-old girl was then trying to escape an invisible enemy: radioactivity in the Chernobyl region. Today, a visible and disturbing enemy has forced her to return to the same hosts, this time as a mother.
"I thank them for welcoming me once again"
Anna Cioffi remembers with emotion the first moments in the company of Taisia ​​when she was a child. "We didn't know her language, we didn't know how to behave with her, or what she wanted to eat," says the elderly woman. "I opened the refrigerator, I placed her in front and then, with her very small hands, she grabbed two eggs and she made a gesture as if to break them, I understood that she wanted eggs on the dish," she says.
Taisia, who has never lost contact with her Italian family, never imagined she would still need their help. "I thank them for welcoming me again because things are difficult when you don't know where to go," recognizes the young woman before adding: "But when you have a family to take refuge with, it's very reassuring, especially for my child. He is very young and I didn't want him to see what is happening in Ukraine at the moment," she points out.
"I feel the need to go back"
The young mother is one of the 55 refugees that the municipality of Ercolano, together with the Red Cross and voluntary associations, went to pick up on the border between Ukraine and Hungary.
"Our goal is to integrate refugees into social life," indicates Ciro Buonajuto, mayor of Ercolano. "We give them access to health care, Ukrainian children have the opportunity to go to school with Italian children," continues_-_he. "Welcoming Ukrainian refugees can be a great resource for our city and our territory," he believes.
Taisia, for her part, considers her installation to be temporary: "When I arrived here I felt safe and then afterwards I thought of my friends and loved ones who remained there and I miss them," she says. "I feel the need to go back and see how they are doing, I'm worried for everyone who is still there," she insists.