News
Ukraine: update on the ground Monday, March 28, 2022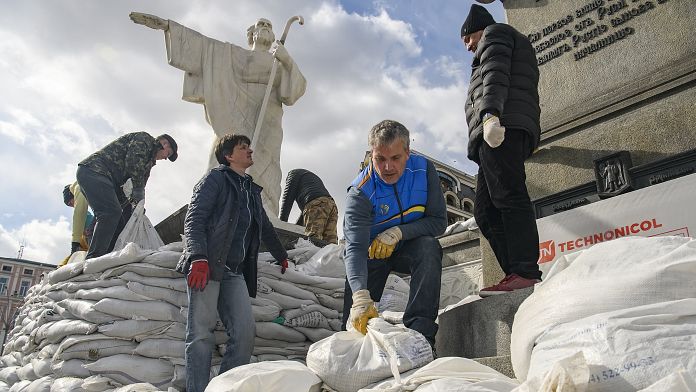 As representatives of Ukraine and Russia are due to meet for a new round of talks, euronews brings you the latest assessment of the situation on the ground in Ukraine, according to the Institute for the Study of War.
In red: Ukrainian territories controlled by Russia.
In blue these are the areas towards Mykolayiv, Kyiv and west of Kyiv, these are the claimed Ukrainian counter-offensives.
And then the green circles to the north, towards Chernihiv, Sumy, Kharkiv, Luhansk and Mariupol. These are the areas where significant fighting has taken place over the past 24 hours.
According to the UK Ministry of Defence, there has been "no significant change in the dispositions of Russian forces in occupied Ukraine". And this is the map that shows their positions and intended movements, as they attempted to make their way to central Ukraine and eventually to the Ukrainian capital.
Direction Kyiv now. There was heavy fighting around the capital in the towns of Bucha and Irpin. In red on the map, Russian troops trying to encircle the capital, coming from the east and northwest. In blue, Ukrainian troops trying to regain territory.
According to Ukrainian Deputy Prime Minister Iryna Vereshchuk, there will be no humanitarian corridors. "Our intelligence services have reported possible provocations by the occupiers on the routes of the humanitarian corridors. Therefore, for reasons of public safety, we are not opening humanitarian corridors today," she wrote.
Which means that tens of thousands of people who are still trapped in besieged cities in Ukraine and have been there for weeks without electricity, food and water will not be able to leave.