News
Ukraine: strike in Mykolaiv, Putin/Macron interview, Zelensky in the Danish Parliament…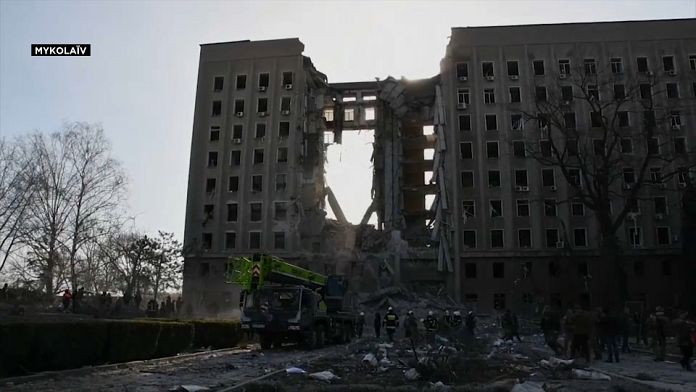 Strike in Mykolaiv, interview between Vladimir Putin and Emmanuel Macron on the humanitarian situation in Mariupol, Volodymyr Zelensky in the Danish Parliament. The situation in Ukraine this Tuesday, March 29.
A Russian strike partially destroyed the building of the regional administration of Mykolaiv, in the south of the country. At least 7 people were killed, and 22 others injured. A new attack that surprised the population of this city of half a million inhabitants, after several days of respite.
In the region, the front line has recently moved to the southeast of this city, around Khersonthe only major city of which Russia has claimed full take since the beginning of the invasion on February 24, now targeted by a Ukrainian counter-offensive.
Humanitarian situation in Mariupol
Besieged by the Russian army since the conflict, Mariupol is now in ruins. At least 5000 people would have been killed in a month, in this port community in southeastern Ukraine.
At the end of the afternoon on Tuesday, the French President Emmanuel Macron and his Russian counterpart Vladimir Putin spoke on the phone, to "secure the humanitarian operation" in Mariupol. But according to the Elysée, the conditions for launching a humanitarian operation are not "met at this stage".
the French head of state presented this evacuation operation – proposed by France, Turkey and Greece – to his Russian counterpart who said "he was going to think about it" before giving an answer, added the presidency. According to the Kremlincontacts between Paris and Moscow will continue.
By videoconference before the Danish parliamentarians, the Ukrainian head of state Volodymyr Zelensky called on Europe and Denmark to defend their values ​​against Russia: "What Russian troops are doing in Mariupol is a crime against humanity, unfolding before the eyes of the entire planet in real time. Why is this even possible? Why the world can't stop this flow of war crimes from Russia, which hasn't let up since February 24 ?"
At request of 41 States, including the 27 of the European Unionthe International Criminal Court in The Hague opened on March 3 an investigation into alleged war crimes in Ukraine.