News
Ukraine: Russian forces focus their offensive on major cities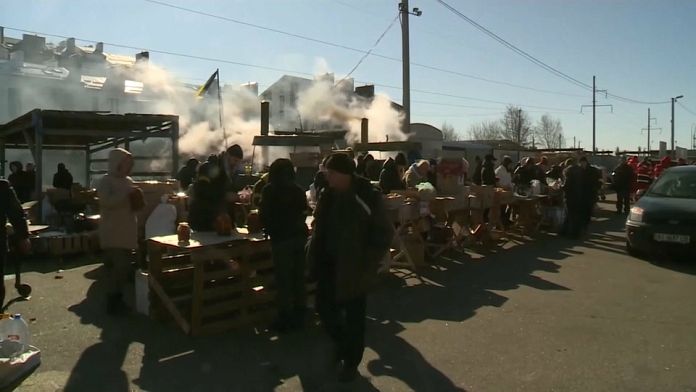 The noose is tightening around Kyivv, on the 18th day of the Russian offensive in Ukraine.
Present in the suburbs of the capital, the Russian soldiers sought this Saturday March 12 to eliminate the defenses in the West and in the North, to encircle the city. According to the Ukrainian authorities, Russian rockets completely destroyed a airport south of the city. One oil warehousealso hit, caught fire.
About 13,000 Ukrainians were able to be evacuated through humanitarian corridors. But according to the government of Kyiv, Moscow does not respect these corridors. One of them would have been shot at, causing the death of 7 people.
Intense shelling
The port city of Mariupol again came under intense bombardment. One of the targets: an area around a mosque, which housed more than 80 people.
AT Volnovakha, Residents are trying to come to terms with the idea that the Ukrainian town is now controlled by Russian-backed forces. This strategic city was the scene of the heaviest fighting between the Ukrainian army and the fighters of the Donetsk People's Republic. The battle devastated much of the city. Residential buildings were destroyed during its capture by separatist forces.
Hospitals targeted
AT Mykolaivin southwestern Ukraine, a hospital specializing in cancer treatment and an eye clinic were bombed just days after the attack on a maternity ward in Mariupol.
Mykolaivlocated near the strategic port from Odessa on the black Seawas bombed relentlessly overnight from Friday to Saturday (March 11 and 12).
No casualties were reported, as one of the hospitals had already stopped taking patients overnight since the start of the war, and the second moved all patients to the basement overnight.
AT Birkya small town located 30 kilometers southwest of the city of Kharkov, the inhabitants prepare for the attacks of the Russian army. To defend themselves, people take courses in field medicine, combat, and military tactics.