News
Ukraine: President Zelensky hails the extent of Western diplomatic support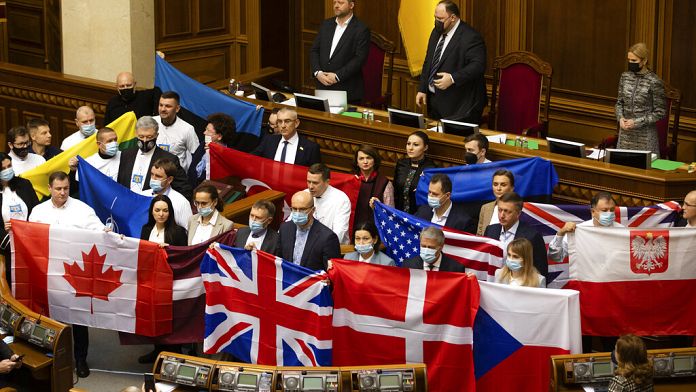 Flags waved in the Ukrainian Parliament: a strong image of support for Kiev in its showdown with Moscow. The Ukrainian president welcomed the diplomatic and military support of Western countries in the face of fears of a Russian attack. Volodymyr Zelensky welcomes several leaders to Kiev this week, including this Tuesday the British and Polish Prime Ministers.
Boris Johnson notably considered that there was a "clear" and "imminent" danger of Russian military intervention. He considered it "vital" that Moscow "step back and choose the path of diplomacy". He highlighted the unity displayed by Western leaders.
"All leaders agree on the fundamental importance of supporting Ukraine's self-determination, as the Ukrainian people have the right to choose how they are governed and which organization they aspire to join" he said.
For his part, the Ukrainian head of state welcomed these signs of support. "We are grateful for the support of the United Kingdom in our aspiration to join NATO and we expect clear and concrete signs from the Atlantic Alliance. This is a very important step: strengthening our defense capability" said Volodymyr Zelensky
Dutch Prime Minister Mark Rutte and Turkish President Recep Tayyip Erdogan are also expected in Kiev this week. Five European foreign ministers, including the French and the German, will make the trip the following week.