News
Ukraine knocks on EU door, European countries support membership in letter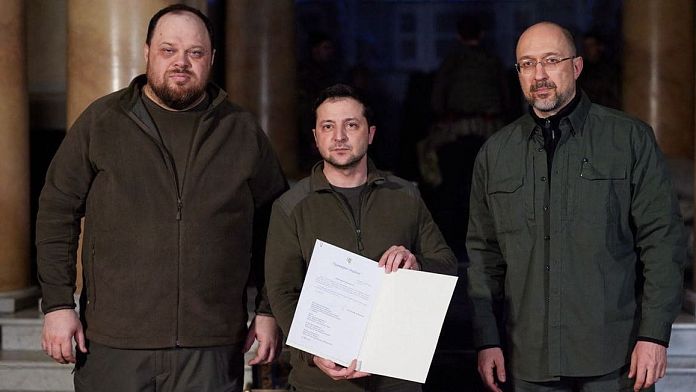 Ukrainian President Volodymyr Zelensky has signed a document asking the European Union to allow Ukraine to join the bloc of 27 immediately, under a special procedure. This request comes as the country has been besieged for 6 days by Russian forces.
"Our objective, said the president, is to be together with all Europeans and, above all, to be on an equal footing. I'm sure that's right. I'm sure it's possible."
But such decisions must be approved by the members of the European Union, which have not always agreed on enlargement in recent years. And of course other candidate countries, notably the Balkan countries, have been trying for years to meet complex conditions.
Nevertheless, in these tense times, support for Ukraine's membership is widespread: Bulgaria, the Czech Republic, the three Baltic countries, Poland, Slovakia and Slovenia wrote this open letter to support the idea, saying that Ukraine deserves a chance.
"We, the Presidents of the EU Member States: the Republic of Bulgaria, the Czech Republic, the Republic of Estonia, the Republic of Latvia, the Republic of Lithuania, the Republic of Poland, the Slovak Republic and the Republic of Slovenia, strongly believe that Ukraine deserves to be given the prospect of immediate EU membership."
José Manuel Barroso, the former President of the European Commission, underlined: "President Von Der Leyen has said that she feels Ukraine is one of us and, no doubt, the EU would like to integrate it as much as possible and as quickly as possible. is how to get there. There are many areas of cooperation between the EU and Ukraine, but of course I think it would be justified for the EU to fully support this aspiration of Ukraine for membership when she's ready."
The priority now is to provide practical support to Ukraine rather than discussing long-term issues.
But some experts have suggested that the promise of EU membership could serve as a bargaining chip in peace talks with Russia.