News
Ukraine: fierce fighting in Mariupol, warning from the Ukrainian president to the Russians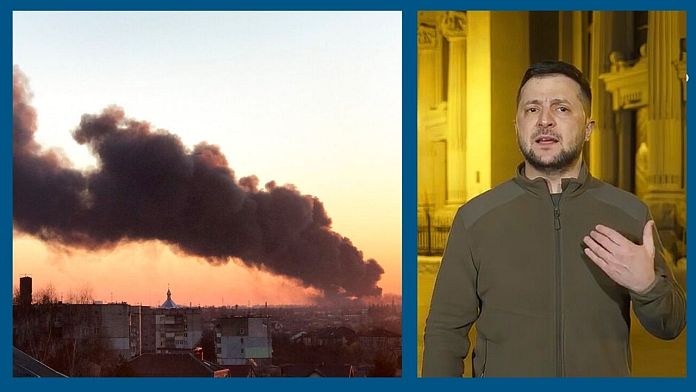 More than three weeks of war in Ukraine. The number of victims and displaced persons continues to increase. "It's time to get together and discuss", launches the Ukrainian president to the Russian leaders.
Russia continues to carry out its offensive against Ukraine, with bombardments against the country's major cities.
It is difficult to have figures for the victims, certain areas being difficult to access for journalists, but those who flee say they see corpses in the streets.
It is in a deserted street, at night, that the Ukrainian president Volodymyr Zelensky recorded his last video.
Addressing Russian leaders, he said: "It's time to get together and talk. __It is time to restore territorial integrity and justice for Ukraine. Otherwise, the losses for Russia will be such that it will take several generations to recover.".
The Battle of Mariupol, the Missile of Lviv
Bitter battles are taking place at Mariupolon the shores of the Sea of ​​Azov.
Russian forces initially surrounded this port city, now claiming to have succeeded in entering it. They are supported by pro-Russian separatist groups.
Some of the residents of Mariupol had managed to flee in recent days. It is now much more difficult.
The Russian authorities claim to target only military objectives.
Thus, Igor Konashenkov, spokesman for the Russian Ministry of Defense, who returns to the missile launch this Friday morning near Lviv, in western Ukraine. "This high-precision fire, he said, was aimed at a parking area for Ukrainian military aircraft."
He claims to have also destroyed arms depots and military bases in other cities of the country.
Since the start of the war, more than 3 weeks ago, witnesses have told how civilians are paying a heavy price. Including children.
A symbolic demonstration was organized in Lviv on Friday. 109 empty strollers were lined up in the marketplace.
This represents the 109 children killed during this conflict.