News
Ukraine: a shopping center bombed in Kyiv, first strikes on the outskirts of Odessa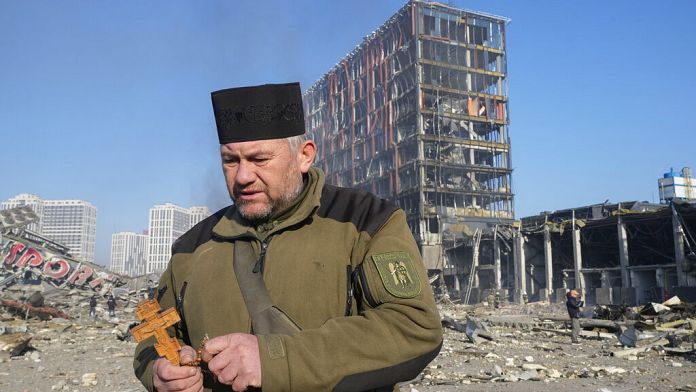 Russian forces are still trying to encircle kyiv, the Ukrainian capital, where a bombardment on a shopping mall overnight from Sunday to Monday killed at least eight people, according to the general prosecutor's office.
Bodies of victims were lying Monday morning in front of the Retroville shopping center, in the northwest of kyiv, noted an AFP journalist. Firefighters and soldiers were busy in the rubble to search for other victims.
The very powerful strike pulverized vehicles and left a gaping crater several meters in the parking lot, in front of a charred and still smoking 10-storey building. Debris, wrecked vehicles and twisted scrap metal littered the stage for hundreds of meters.
According to Mayor Vitali Klitschko, six residential buildings, two schools and two nurseries near the shopping center were also damaged.
In a video on Telegram, Ukrainian President Volodymyr Zelensky called on the European Union, and in particular Germany, to stop all trade with Russia, especially regarding "energy resources", for so "Russia will have no more money for this war".
Ammonia leak in Sumy
In the north of the country, the regional governor of Sumy, Dmytro Zhyvytsky, reported a "ammonia leak" at the facilities of the Sumykhimprom enterprise, affecting an area of ​​2.5 kilometers around the plant, which produces fertilizers.
The extent and cause of the incident are unclear but residents have been told to seek refuge in basements or low-rise buildings to avoid exposure.
Around 07:45 GMT, Ukrainian rescuers tweeted that the accident, caused by a bombardment of unspecified origin, was "ended".
The Russian Minister of Defense said on Sunday evening that "nationalists"had"mine"ammonia and chlorine storage facilities in Sumykhimprom"with the aim of massive poisoning of the inhabitants of the Sumy region, in the event of the entry into the city of units of the Russian armed forces".
Odessa targeted for the first time
On the shores of the Black Sea, Odessa suffered its first bombardments on Monday. Several houses were affected, while hundreds of civilians were able to flee the port city on Sunday, thanks to the help of the Red Cross.
The United Nations has estimated that around 10 million Ukrainians have fled their homes, of whom around a third have gone abroad, mainly to Poland.
According to the Ukrainian army, the Russians have lost since the start of the invasion 15,000 soldiers, 100 planes, 120 helicopters, 500 tanks and 1,500 armored vehicles – a figure impossible to verify.
In Russia, the security services (FSB) demanded a ban on Monday "immediate"American social networks Facebook and Instagram because of their activities"directed against Russia and its armed forces", on the first day of a trial for "extremism"in a context of heightened repression since the offensive in Ukraine.