News
UK: Train Ukrainian soldiers to "win the war"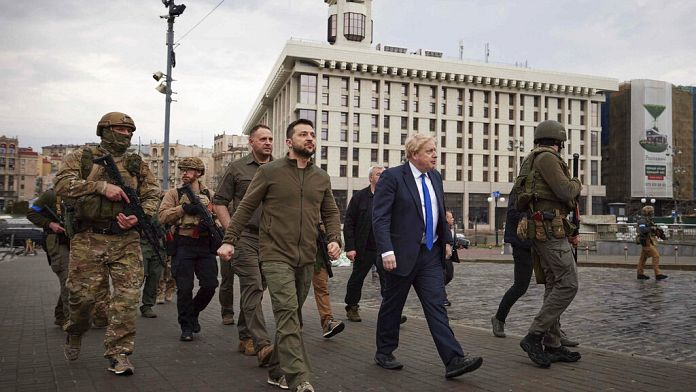 Dozens of Ukrainian soldiers are training in the UK. In particular, they learn to use 120 British armored vehicles before returning to fight in Ukraine against Russia. British soldiers are also training their Ukrainian counterparts in Poland in the use of anti-aircraft missiles.
Since the beginning of the conflict in Ukraine, the British Prime Minister Boris Johnson was keen to show his support for his Ukrainian counterpart and actions taken by his government resonated almost as loudly as his words.
"On March 9, I announced that the United Kingdom would provide high and low velocity anti-aircraft missiles. I am now able to confirm to the Upper House of Parliament that these missiles have been on the ground for over three weeks and have been deployed and used by Ukrainian forces to resist and defend their territory", assured the British Minister of Defense, Ben Wallace.
Now retired, the Lieutenant Colonel Stuart Crawford was an officer in the British Army for 20 years. According to him, his country's special forces could already train Ukrainian troops directly on their soil.
"I would be totally flabbergasted if that didn't happen. Obviously, Ukrainian soldiers would not walk around with star or British insignia on their uniforms. They would train rather than fight. Until recently, we provided Ukraine with enough weapons and trained its soldiers enough to ensure that Kyiv did not lose. Now I believe that a change is taking place and that our weapons and the hours of training provided to the Ukrainian armed forces are intended to give them a chance to win this war.", analyzes the former regular officer of the Royal Tank Regiment.
At the same time, food, medicine and provisions for the Ukrainian army are collected at the Ukrainian Cultural Center in London, thanks to the Internet and crowdfunding (Crowdfunfind). Natalya Ravyluk helps sort and clean up whatever is collected. For her, European countries could do much more.
"Ukraine doesn't deserve to be a second-hand country and use this stuff, so we try to do our best. We pay trucks, we fundraise wherever possible. So if the British government can send more material, that will help a lot. Everything that is being done now, boycotting Russian companies, providing Ukraine with military aid, moral support, all of this should have been done eight years ago and this disaster could have been avoided", she says.
As the Russian army continues its advance in the east of the country, in the Kharkiv region and in the Donbass, the British Foreign Minister, Liz Trusscalled on Wednesday for an increase in deliveries of heavy weapons and aircraft to Ukraine, stressing that the time was at "courage"against Russia.