News
Two weeks after the death of 27 migrants in the Channel, going to England remains the goal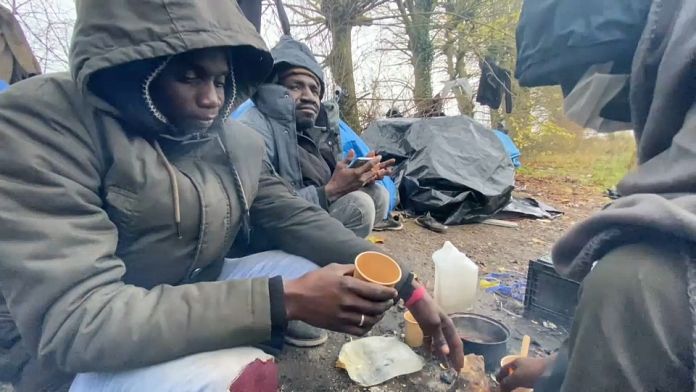 Gone are the days of the gigantic "jungles" of the coastal city of Calais, but the region remains a transit point for asylum seekers trying to reach the UK.
This group fled Afghanistan shortly after the Taliban took power and said they had nothing to return to.
"It's been over a month or two since I spoke to my family. I don't know where they are. They escaped and we had to flee our homes. Everything we had in Afghanistan , we lost him. And now I don't know what we're going to do. We're just waiting to see if we can go to England, maybe there is hope for us. " testifies an Afghan asylum seeker who wishes to remain anonymous.
According to figures from the French Coast Guard, more than 15,000 people attempted to cross the Channel in the first eight months of this year, a 50% increase over the figure for the whole of 2020.
France is investing heavily to discourage migrants from stationing in the region, to no avail.
"In recent years, tens of thousands of people have passed through Calais in the hope of reaching the United Kingdom. According to NGOs, at least a thousand remain in various camps around this area. repeated mass expulsion operations, and the restrictions on the provision of and access to humanitarian aid denounced by NGOs " explains our reporter Anelise Borges.
A month ago, Ludovic Holbein went on hunger strike for 30 days to denounce France's policy towards refugees in Calais, treatment he considers "inhuman and degrading". He compares the latest measures taken on both sides of the Channel to a militarization of the border that will do nothing:
"They are on a razor's edge here in Calais and desperate to cross. People who want to go to England are going to continue to take all the risks to get to England. And adding one plane and two helicopters won't make a difference. It will only cause people to take even more risks, perhaps crossing in even worse conditions … to leave when there is fog so as not to be seen by planes. "
As statesmen scramble to stop, if not at least discourage the influx of migrants, many exiles say they have no choice but to continue.
Adam left his wife and two boys in Sudan in an attempt to give his family a better life, he heard about the shipwreck that killed 27 people two weeks ago, he knows it is dangerous, but he says don't let that change anything.
Eight days ago, the French Prime Minister sent a letter to London, explaining that the fate of the exiles wishing to go to England rested in the first place on France while a large part of the solution lay in the United Kingdom.
Source link