News
Turkey reconciles with Saudi Arabia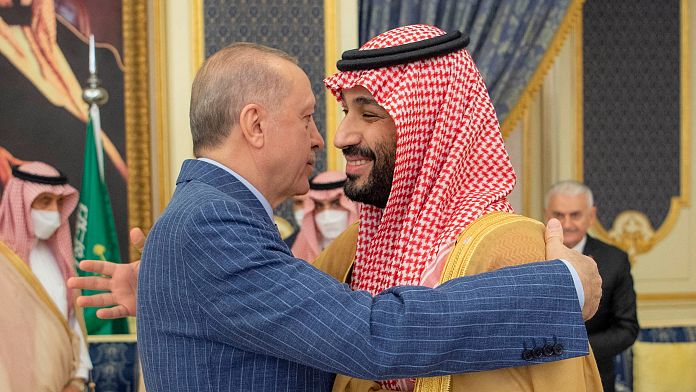 It is a visit of reconciliation, between Turkey and Saudi Arabia! Recep Tayyip Edogan arrived in Jeddah on Thursday, where he met with the king and Crown Prince Mohammed bin Salman. The Turkish president had not visited the country since 2017.
His motivation is essentially economic: the situation is difficult in Turkey with inflation of more than 60% in one year… the government had to face a wave of demonstrations this winter and Erdogan's popularity has dropped to one year new elections. He is therefore seeking financial support from the Gulf countries, with which he had distanced himself since the suppressed revolts of the Arab Spring in the 2010s.It is in our common interest to increase our cooperation in the areas of health, energy, food security, agricultural technology, defense industry and finance."said the Turkish president.
The quarrel between Ankara and Riyadh has been particularly strong since the assassination of Saudi journalist Jamal Khashoggi in October 2018. This opponent was killed in sordid conditions in the Saudi consulate in Istanbul and Recep Tayyip Erdohan denounced the responsibility of the Saudi government "at the highest levels".
But today, justice no longer seems to be Ankara's priority. Earlier in March, an Istanbul court halted the trial in absentia of 26 Saudi suspects while transferring the case to Riyadh. Human rights associations denounce a scandalous decision and Mr. Khashoggi's widow has announced that she will appeal.