[ad_1]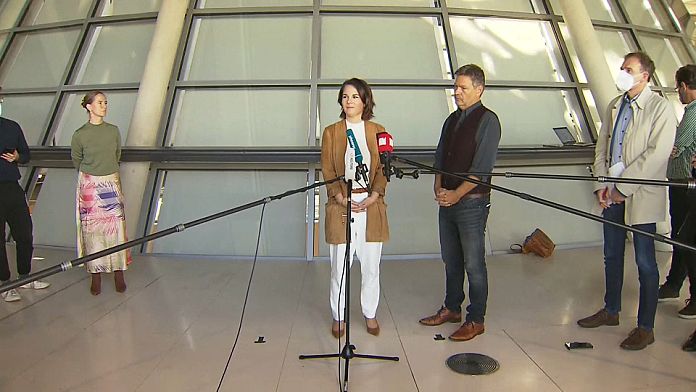 A so-called "traffic light" coalition appears to be looming in Germany, more than a week after legislative elections marked by the SPD's narrow victory over the CDU.
Greens ready to talk with SPD
The Greens, who are now showing themselves as kingmakers, say they are ready to "deepen" the discussions with the social democrats and the liberals of the FDP, as confirmed this Wednesday Annalena Baerbock, the co-president of the Alliance 90 party / The Greens.
Having come third in the legislative elections with almost 15% of the vote, the Greens see "more convergence on substance" with the social democrats than with the conservatives, especially "in the field of social policy", acknowledged Robert Habeck, the other leader of the Grünen.
The FDP grasps the hand extended by the Greens
For its part, the FDP, which so far seemed to lean more towards an alliance with the CDU, seized the hand extended by the Greens to start talks with the Social Democrats. Fourth in the election with 11% of the vote, the Liberals also play the role of kingmaker.
"I have just proposed to Olaf Scholz, in agreement with the Greens, that we meet tomorrow so that such discussions between the three of us take place", said Christian Lindner, the leader of the FDP.
Olaf Scholz says he has a mandate to form a coalition
In the afternoon, Olaf Scholz, the leader of the social Democrats assured that he had "a mandate" to form a coalition with the Greens and the FDP.
The CDU does not lose hope
For their part, the conservatives of the CDU, in power for 16 years, have not yet given up hope of forming a so-called Jamaican coalition to remain in government. But the latest opinion polls send them rather in opposition.
A majority of Germans (53%) thus want a coalition between SPD, Greens and FDP, against less than a quarter (22%) in favor of a "Jamaican" coalition.
In addition, 74% of respondents believe that the CDU-CSU should make a cure of opposition, according to a Forsa poll published on Wednesday.
[ad_2]

Source link