News
Total lunar eclipse: how to observe this rare phenomenon?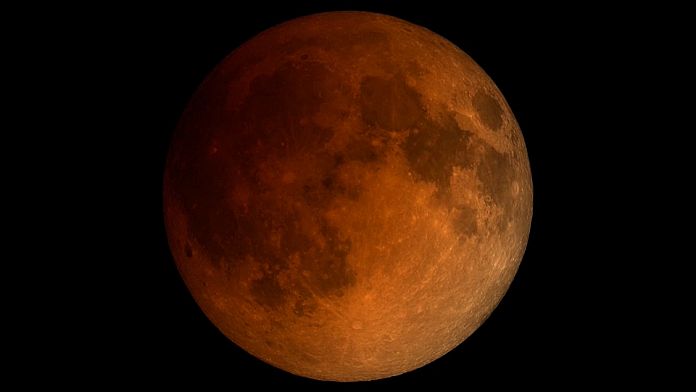 Some Earthlings will be able to witness a total lunar eclipse on the night of Sunday to Monday, an infrequent celestial spectacle during which the star of the night loses its brilliance and gradually turns red.
The eclipse will be visible from parts of the American, European and African continents between moonrise and moonset.
This phenomenon occurs when the Sun, the Earth and the Moon are perfectly aligned, and the Moon is in its full phase. The star slips into the shadow of the Earth, which then shields the sun's rays, and gradually loses its white glow.
"The great thing is that when the moon is entirely in shadow, it looks pink or orange. That's because our eyes adjust to that darker light. In reality, the only light that reaches the moon at that time is the one that is scattered by the earth's atmosphere", explains Michelle Thaller, a NASA scientist.
One of the longest eclipses
The eclipse will last about five hours, and its totality phase – when the star is completely in the Earth's shadow – a little over an hour.
"Observation from the West Indies or Guyana will be ideal, because the Moon will be very high in the sky", according to the Observatory. The eclipse will also be visible in full in South America, Central America and over an eastern part of North America.
Can be observed with the naked eye
In mainland France, the eclipse will be total at the end of the night between 5:29 a.m. and 6:54 a.m., with a maximum at 6:11 a.m.: the lunar disc will then be completely red. Unlike a solar eclipse, there is no risk in observing the lunar eclipse with the naked eye, but it is even better with binoculars.
Note that the Moon will set during this phase of totality, at the same time as the Sun will rise. It will therefore be all the easier to observe the phenomenon if you are in the west of France, where the Sun rises later than in the east.
The next total lunar eclipse is scheduled for November 2022, in the middle of the Pacific. In mainland France, the last dates back to January 2019 and the next will not take place until 2029.