News
Tornadoes: Mayfield, Kentucky nearly wiped off the map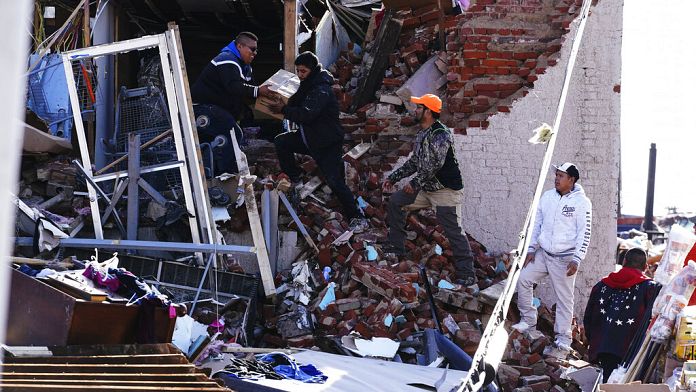 The city of Mayfield in the US state of Kentucky was virtually wiped off the map after a powerful tornado hit the night from Friday to Saturday.
The center of this city of 10,000 inhabitants looks like "to a pile of matchesCity Mayor Kathy O'Nan said on CNN. Mayfield appears to have been the epicenter of the disaster, with entire city blocks razed to the ground, reminiscent of a war zone.
The mayor also said that no one had been able to escape alive since this morning from the rubble of a candle factory in the city, where around 100 employees were trapped after the roof gave way under the violence of the winds. This tragedy raises fears of a worsening of the death toll of more than 78 established across five American states affected by the tornadoes.
"The city [de Mayfield] suffered the hardest blows. The devastation is massive there"said Michael Dossett, a local relief official, interviewed on CNN. He mentioned a"ground zero", an expression used to describe the ruins of the World Trade Center after the attacks of September 11, 2001 in New York.
Several counties in Kentucky were also devastated by the strongest tornado that traveled more than 300 kilometers in the state, said Governor Andy Beshear, who declared a state of emergency before midnight Friday evening.
As the relief efforts were in place on Saturday morning, President Joe Biden spoke of a "unimaginable tragedy"and assured that the federal administration was working in concert with the governors of the affected states.
Other affected states
Further northwest, in Illinois, strong winds partially tore off the roof of a storm-ravaged Amazon warehouse. Employees of the retail giant worked there at night to process orders before the holiday season.
Police confirmed multiple deaths in the warehouse and the Collinsville Emergency Management Agency referred to "many people trapped" in the building.
The emergency services worked until the early hours of Saturday to try to free these people from the installation, a third of which is nothing more than rubble.
Images from the Edwardsville Amazon warehouse, shared by U.S. news channels and social media, show much of the facility's roof torn off, one of the walls collapsed into the building and rubble strewn across the site .
Illinois Governor JB Pritzker said he was addressing his "prayers to the people of Edwardsville".
In Arkansas, one person was killed and 20 were trapped in a nursing home, media reported. But rescuers managed to evacuate the trapped from the building whose structure was "virtually destroyed," Craighead County official Marvin Day told local news channels. Another person died elsewhere in that state.
In Tennessee, at least two people have been killed in weather-related events, according to an emergency management official quoted by local media.
Tornadoes also hit Missouri.
Climate change is increasing the magnitude and frequency of storms that are already affecting the United States, scientists say.
Source link