News
Tornadoes in the United States: time is still for rescue, Joe Biden expected Wednesday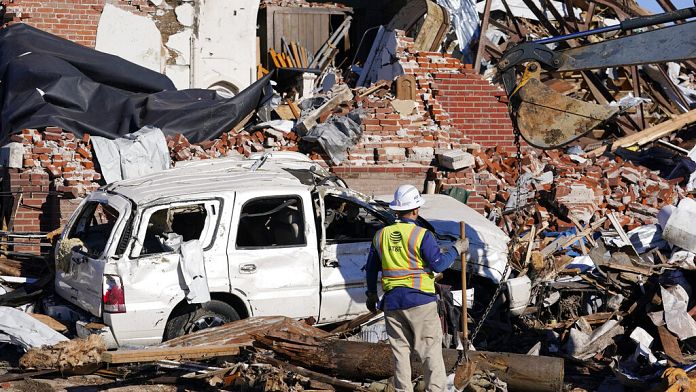 In the United States, the still provisional toll of the passage of several tornadoes in the center of the country amounts to 79 dead. Rescuers are still trying to find survivors under the rubble, but without much hope.
Rescuers continue to search the rubble of the Mayfield Candle Factory devastated by one of the dozens of tornadoes that swept through Kentucky and five other states over the weekend.
Miraculously, the toll is not as deadly as the damage suggested. 94 employees out of the 110 present Friday evening were found, injured but alive. The collapse of the building claimed the lives of eight people. And eight others are still missing.
About a hundred rescuers are mobilized on this site, some from neighboring states. Among them, Tom Neal from Indiana:
"We still consider ourselves in the rescue phase, he explains. But time goes by and temperatures go down at night, so making sure we can save the people who may still be trapped in this building is essential."
Moved, Kentucky Governor Andy Beshear announced the latest official death toll from tornadoes in his state alone: ​​at least 65 dead.
"Here are some more facts about the ones we lost. Eighteen of them are still not identified. Known victims are between five months and 86 years old, and six of them are under 18. "
Coming from Joe Biden
US President Joe Biden will travel to Kentucky tomorrow, Wednesday, Mayfield and Dawson Springs to "assess the damage". On Sunday, he declared a state of major disaster in Kentucky, but he did not come immediately to avoid hampering relief efforts.
Meanwhile, the survivors are digging through the rubble of what was, until a few days ago, their home.
The tornadoes also killed 14 people in the neighboring states of Tennessee, Illinois, Missouri and Arkansas.
Source link