News
To follow live: twelfth day of war in Ukraine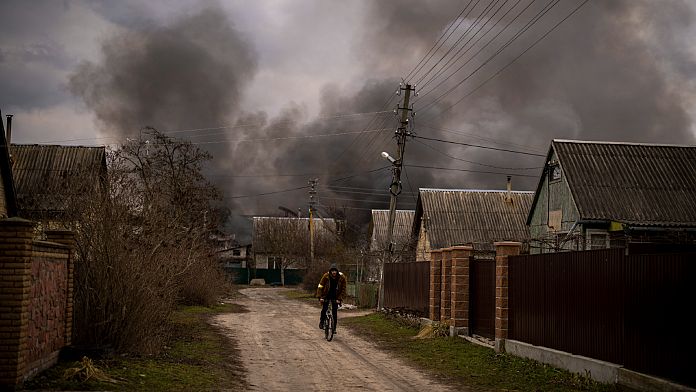 Ukrainian President Volodymyr Zelenskyy said late on Sunday that Ukraine would not forgive Russia for all the casualties and suffering that the war it has caused.
According to Russian media, humanitarian corridors and local ceasefires will be put in place on Monday to allow the evacuation of civilians from several towns. A second attempt to evacuate civilians from the besieged city of Mariupol failed on Sunday due to continued Russian shelling.
The last call between Vladimir Putin and Emmanuel Macron on Sunday focused on the safety of Ukrainian nuclear power plants. The international energy agency, the IAEA, has expressed serious concern that they are falling into Russian hands.
In Russia, thousands of people were arrested on Sunday for demonstrating against the invasion.
Follow the latest developments in real time on this page:
Monday's highlights:
President Zelenskyy warned that Russia intended to attack Ukrainian defense companies on Monday, saying hundreds of thousands of civilians live nearby. Earlier, he issued a fresh call for a Western-imposed no-fly zone.
A new attempt to evacuate civilians in the besieged city of Mariupol failed on Sunday, with Ukraine accusing Russia of yet again shelling the area.
Civilians have been killed in shelling outside Kiev, officials say.
According to OVD-Info, at least 4,640 people were arrested during protests against the war in Russia on Sunday in 65 cities.
The IAEA said Ukraine was having difficulty communicating with Zaporizhia personnel, who said they were ordered to go through Russian authorities first.
The next round of negotiations between Russia and Ukraine will take place on Monday.
The UN Human Rights Office said 364 Ukrainian civilians have been killed since the start of the invasion.
More than 1.5 million people have fled Ukraine since the Russian invasion began ten days ago.
New tech companies including TikTok and Netflix have suspended services in Russia.
7:26
The Russian army announces "humanitarian corridors and local ceasefires".
The Russian military will suspend firing and open humanitarian corridors in several Ukrainian cities on Monday, the Defense Ministry said.
According to a statement, Russian forces will allow corridors to open at 10 a.m. Moscow time (0700 GMT, 0800 CET) from the capital Kyiv as well as the cities of Kharkiv, Mariupol and Sumy. These corridors are set up at the personal request of French President Emmanuel Macron, the ministry said.
These cities are in the throes of intense Russian bombardments on civilian areas.
The ministry added that those leaving Kyiv will then be airlifted to Russia and drones will be used to monitor the evacuation.
"Attempts of the Ukrainian side to deceive Russia and the whole civilized world […] are unnecessary this time around," the ministry said.
The Russian move comes after fighting halted weekend evacuation efforts and civilian casualties from the Russian invasion mounted. (with Reuters and AFP)
07:13
Russian forces launched hundreds of missiles and artillery attacks across the country, including powerful bombs dropped on residential areas in Chernihiv, a town north of the capital Kyiv, Ukrainian officials said. But a kilometer-long Russian armored column threatening the capital remained stuck outside Kiev.
On Sunday evening, heavy artillery fire also hit Mykolaiv in the south and Kharkiv, the country's second largest city. Heavy artillery hit residential areas of Kharkiv and the gunfire damaged a TV tower, local officials said.
Attempts to evacuate residents of the suburbs of Kyiv, Bucha, Hostomel and Irpin on Sunday were mostly unsuccessful.
Ukrainian Interior Ministry adviser Anton Gerashchenko blamed Russian artillery fire for halting the second attempt in as many days to evacuate the estimated 200,000 civilians from Mariupol, where food, water and drugs are scarce.
A senior US defense official said on Sunday that the United States believes about 95% of the Russian forces that had been deployed around Ukraine are now inside the country. Ukraine's air and missile defenses remain effective and well-operated, and the Ukrainian military continues to fly aircraft and use air defense assets, the official said.
Ukrainian forces are also defending Odessa, Ukraine's largest port city, against Russian ships, Ukrainian presidential adviser Oleksiy Arestovich said.
The Russian Defense Ministry announced on Sunday its intention to strike Ukraine's military-industrial complex.
06:53
According to Reuters, around 200,000 people remain stranded in the besieged city of Mariupol on Monday, in southeastern Ukraine, after fighting ended evacuation attempts over the weekend. There is no indication that massive international sanctions are deterring Moscow from invading Ukraine.
According to Ukrainian authorities, most people are sleeping underground to escape more than six days of shelling by Russian forces which have cut off food, water, electricity and heating.