News
To follow live: ninth day of war in Ukraine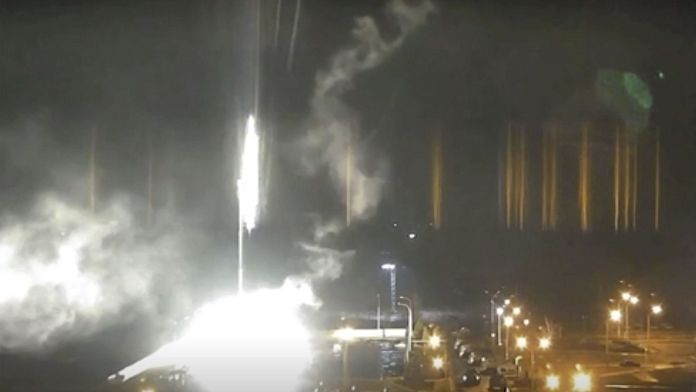 It is on this page that you can follow, throughout this ninth day of war in Ukraine and as in recent days, the unfolding of the latest events around the war in Ukraine. Battles on the ground, diplomatic developments, talks, sanctions.
Ukraine's largest nuclear power plant, with its six reactors, was targeted by Russian bombing last night. The fire started in a building and a laboratory, it is now extinguished, according to the authorities. Luckily, the reactors weren't hit.
Ukrainian President Volodymyr Zelensky denounces the "nuclear terror" instituted by Moscow. "Now Europe must wake up. Europe's largest nuclear power plant is on fire. At this moment. Russian tanks target nuclear units. And they have thermal sights, so they know what they're shooting at, they've got it ready."
Target cities
In many cities of the country, the sirens still sounded in the night, to warn the population of the air raids.
Russian tanks and military vehicles continue their advance towards the Ukrainian capital; they are a few tens of kilometers from Kyiv.
Many cities are surrounded by Russian forces and several Western officials fear long sieges, with dramatic consequences for residents. Yesterday, the French Minister for Foreign Affairs, Jean-Yves Le Drian, said "fear a logic of siege", to which "the Russians are accustomed." The head of diplomacy recalled the cases of Aleppo, in Syria, and Grozny, in Chechnya.
On Thursday, 33 civilians were killed in shelling in Chernihiv, northeast of Kyiv. According to the local governor, the planes targeted homes, two schools and a gas tank.
In Kyiv, the firefighters are also very mobilized… they fight against many fires, buildings, warehouses.
Humanitarian crisis
During their talks yesterday, the Russian and Ukrainian governments agreed on the organization of humanitarian corridors to allow civilians to flee combat zones.
In cities that have come under Russian control, such as Kherson, in the south of the country on the Black Sea, supply problems are beginning and queues are getting longer to be able to buy bread.
NATO on alert
The NATO countries are strengthening their presence in the countries bordering Ukraine: American troops are arriving in Poland, the first French soldiers have arrived in Romania. They should be 550, in a few days, near the Black Sea. French President Emmanuel Macron, who spoke yesterday with his Russian counterpart Vladimir Putin, said he was "very determined" and announced that "the worst is yet to come".