News
Thousands of demonstrators in European cities denounce the war in Ukraine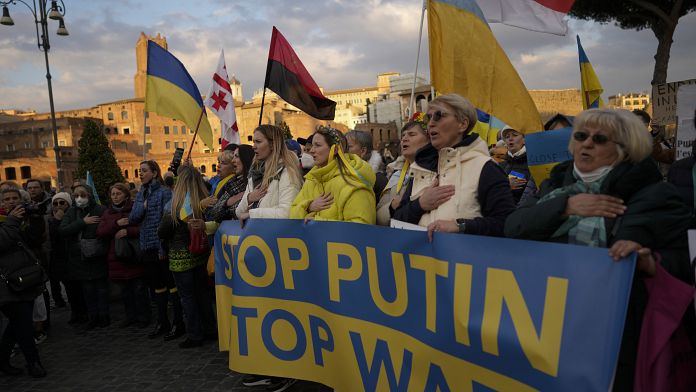 Thousands of people demonstrated for the second consecutive day in many European cities on Sunday to denounce the Russian invasion of Ukraine.
AT Brusselsaround 5,000 people, according to police, took to the streets, waving numerous Ukrainian flags.
"Russians, go home!", chanted the crowd. "Stop the war", "Europe, be brave, act now", could we read on signs held up by the protesters. Some demonstrators carried yellow flowers matched with blue ribbons.
AT Toulousein the south-west of France, a city twinned with Kyiv, demonstrators marched behind a large yellow and blue banner, brandishing portraits of the Russian president stained in red and proclaiming "Stop murderer Putin".
Representing the skies of Ukraine, a five by five meter cloud of blue canvas was unfurled by protesters, calling for "close the airspace", to the cry of "Let's protect the sky of Ukraine".
In the north of the Francesome 5,000 people gathered in support of Ukraine in front of the Caen memorial, which specializes in the 1944 Allied landings in Normandy.
The Ukrainian flag was hoisted and many people present sported the blue and yellow colors of the Ukrainian flag, noted an AFP journalist.
"People of Ukraine, we will not let you go! Democracy, freedom, peace", could we read on a sign.
"Close the sky, not your eyes"
In Spaindemonstrations took place in Madrid, Barcelona (northeast) and other cities to demand an end to the Russian invasion of Ukraine.
Many blue and yellow flags waved in Barcelona's central Plaza Catalunya, where authorities said around 800 people gathered with banners that read "Close the sky, not your eyes", "NATO, protect the skies of Ukraine" Where "Stop Putin, stop the war".
"They attack, destroy and kill civilians for no reason", told AFP Natalia Brodovskaa 45-year-old Ukrainian lawyer who has lived in Spain for eight years.
"It's horrible, we can't sleep or eat. I think all Ukrainians feel that. But the situation of my people who are in Ukraine is much worse", she added.
In Belgrade, hundreds of people gathered to express their support for Ukraine, two days after a demonstration in support of Russian President Vladimir Putin and Russia's invasion of Ukraine.
"We want to save face in Belgrade because what happened on Friday (the pro-Russian rally) is really a disgrace", told AFP Zdravko Jankovica 46-year-old mathematician.
A hundred people also gathered on Sunday at Skopjecapital of North Macedonia, to express their support for Ukraine.
On Saturday, thousands of demonstrators had already taken to the streets in Paris, New York, Rome Where Zurichto say "stop"to war and protest against Russia's invasion of Ukraine.