News
Thomas Sankara, a revolutionary ideal and an iron hand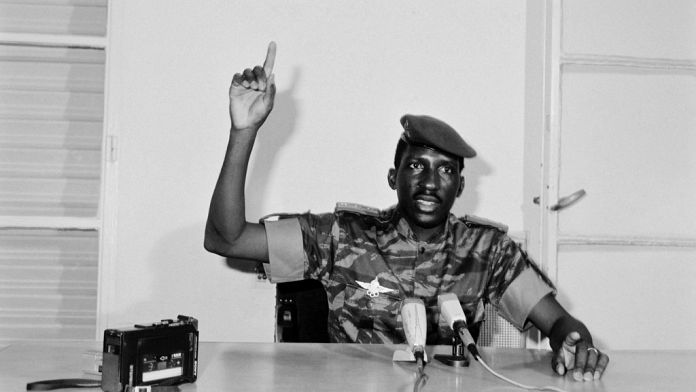 Opening this Monday in Ouagadougou (Burkina Faso) the trial of the alleged perpetrators of the "murder of Thomas Sankara. The former president of Burkina Faso was killed on 15 October 1987 during a coup. 34 years later, his memory is still alive. Portrait of this revolutionary who wanted"decolonizing mentalities".
On October 15, 1987, Thomas Sankara went to an extraordinary council of ministers, in Ouagadougou, capital of the former Upper Volta, renamed Burkina Faso, "the land of men of integrity". It was during this meeting that the Burkinabe leader and six members of his cabinet as well as several guards were murdered by a military commando. Thomas Sankara was only 37 years old.
The circumstances of his death and especially the perpetrators of the assassination have long remained mysterious. The trial that opens this Monday should make it possible to shed (definitively) light on this event.
In any case, 34 years after his death, Thomas Sankara still enjoys a great popularity, linked to both his career and his ideas.
Sankara, multi-coup leader
Born on December 21, 1949 in Yako (north), Thomas Sankara, raised in a Christian family and whose father was a veteran, was twelve years old at the time of decolonization.
After obtaining his baccalaureate in Ouagadougou, he followed military training abroad, notably in Madagascar, where in 1972 he witnessed the insurrection that overthrew President Philibert Tsiranana, considered subservient to France, former colonial power.
Upon his return in 1973 to his country which was then called the Upper Volta, he was assigned to train young recruits and made his mark during a conflict with Mali, in 1974-1975.
After a coup in November 1980, the new head of state, Colonel Saye Zerbo, entrusted him with the post of State Secretary for Information. Its progressive ideas a year and a half later.
But he returned in another coup and was appointed Prime minister in January 1983. A deaf struggle for power then begins between the military.
First arrested in May 1983, he reappeared in August, this time for good, following a new coup d'Etat led by his close friend, the captain Blaise Compaoré.
"The land of honest men"
33 years old, Sankara symbolizes Africa's youth and integrity. He also renamed his country Burkina Faso, the "land of honest men".
Sporting and slender, smiling and charming, the young leader is always dressed in fatigues, carrying on his belt a mother-of-pearl lacrosse pistol donated by North Korean leader Kim Il-Sung.
Living modestly with his wife and two sons in a dilapidated presidential palace, he only has his guitar and a used Renault 5, a small vehicle that he imposes as a company car on all members of his government accustomed to luxurious sedans.
His priorities: degreasing a "bloated" public service, improving the health situation, opening up the countryside, education, promotion of women, policy in favor of peasants.
This proactive policy is being pursued with an iron fist. "We must decolonize mentalities"he says.
The population is monitored by the Committees for the Defense of the revolution (CDR) and sanctioned by the People's Courts of the revolution (TPR).
He breaks a strike of teachers by dismissing them, trade union and political opposition is suppressed.
Sankara and the "imperialists"
His relations with the former French colonial power and several neighbouring countries, including Félix Houphouët Boigny's Côte d'Ivoire and Gnassingbé Eyadéma's Togo, were strained.
His positions, his links with Libya of Muammar Gaddafi and Ghana of Jerry Rawlings, worry.
French President François Mitterrand, who had officially welcomed Angolan rebel Jonas Savimbi and South African apartheid president Pieter Botha to Paris, gave a human rights lesson during a visit to Ouagadougou in 1986. "It goes further than it should in my opinion", retorts Mitterrand.
Sankara calls on Africa not to pay its debt to Western countries, denounces wars before the UN "imperialist", apartheid, poverty, defends the right of Palestinians to self-determination.
The legacy of Sankara
34 years after his death, what is the legacy left by Sankara?
"Sankara is a whole philosophy, it is a way of thinking and being, a way of life. Sankara is an African pride" says Serge Ouédraogo, a high school teacher in Ouaga.
"Today, we can say that Sankara represents a compass for the Burkinabe people. He is a guide, he is the one who charted the path of hope for the people", says Mr. Ouédraogo.
Source link